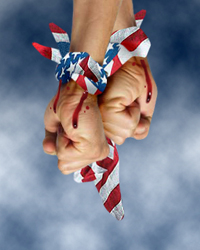 The Bush Administration legacy of torture grows, and its claims to Congress were false, according to a new report by Human Rights Watch.
The United States government during the Bush administration tortured opponents of Muammar Gaddafi, then transferred them to mistreatment in Libya, according to accounts by former detainees and recently uncovered CIA and UK Secret Service documents, Human Rights Watch said in a report released today. One former detainee alleged he was waterboarded and another described a similar form of water torture, contradicting claims by Bush administration officials that only three men in US custody had been waterboarded.
[More...]
(13 comments, 1078 words in story) There's More :: Permalink :: Comments
The LA Times has photos of U.S. troops in Afghanistan posing with body parts of dead Afghans.
The troops were with the 82nd Airborne Division. In one instance, their mission on the first such occasion was simply to :
Check out reports that Afghan police had recovered the mangled remains of an insurgent suicide bomber. Try to get iris scans and fingerprints for identification.
They did the same while investigating another suicide bombing a few months later. The photos were given to the Times by a soldier in the division. A criminal investigation has been launched:
It is a violation of Army standards to pose with corpses for photographs outside of officially sanctioned purposes," said George Wright, an Army spokesman. "Such actions fall short of what we expect of our uniformed service members in deployed areas."
[More...]
(3 comments, 287 words in story) There's More :: Permalink :: Comments
Staff Sergeant Robert Bales was $1 million in debt and has no memory of the killings. He and his wife had just listed their home for $50k less than they paid. He was on his fourth deployment.
How could his superiors not notice something askew? Was he evaluated or taking medication for depression? Taking the wrong combo of meds? He was recently passed over for promotion -- surely his record contains some concerns.
His background does not match the rosy description portrayed by those he grew up with: [More...]
(18 comments, 583 words in story) There's More :: Permalink :: Comments
The U.S. military has dismissed a murder charge against Army Specialist Michael Wagnon, the remaining member of the 5th Stryker Brigade charged with pre-meditated murder in the 2010 "Thrill Kill" spree of killings and corpse mutilation of unarmed Afghan civilians.
The dismissal of the case against Wagnon, 31, brought to an abrupt end the Army's prosecution of the most egregious atrocities that U.S. military personnel have been convicted of committing during a decade of war in Afghanistan.

Five members of the infantry unit formerly known as the 5th Stryker Brigade were charged with killing Afghan civilians in cold blood in random attacks staged to look like legitimate combat engagements. Seven other GIs were charged with lesser offenses in a case that began as an investigation into rampant hashish abuse within the unit.

[More..]
(6 comments, 1152 words in story) There's More :: Permalink :: Comments
The Taliban carried out a suicide bombing attack on coalition forces in Kabul today, killing 13 Americans.
The Taliban said the bomber, Abdul Rahman, was driving a Toyota Land Cruiser SUV containing 1,540 pounds (700 kilograms) of explosives and targeting foreigners providing training for Afghan police.

...It was the deadliest single attack against the U.S.-led coalition across the country since the Taliban shot down a NATO helicopter on Aug. 6 in an eastern Afghan province, killing 30 U.S. troops, most elite Navy SEALs, and eight Afghans.
According to a U.N. report last month, "violence against civilians had risen to its highest levels of the decade-long war."
(3 comments) Permalink :: Comments
PFC Andrew Holmes, a member of the "Kill Team" of U.S. soldiers in Afghanistan that killed villagers for sport, was sentenced today to 7 years in prison for killing an unarmed 15 year old.
Five members of the former 5th Stryker Brigade have faced murder charges in connection with what military prosecutors say were staged attacks on Afghan villagers. In the attacks, prosecutors say, U.S. soldiers fired volleys of guns and grenades at innocent people and then planted weapons to make it look as though the victims had shot first.
Holmes is the 9th soldier convicted. Charges remain pending against two or three others. [More...]
(24 comments, 287 words in story) There's More :: Permalink :: Comments
The Taliban spent the past 5 months building a 1,060 foot underground tunnel that led directly into Sarposa Prison in Khandahar and broke out 575 inmates, including about 100 Taliban commanders.
Their tunnel operation was not discovered. They were able to bypass checkpoints and main roads. When asked how the Taliban were able to build the tunnel and effect the breakout, Gov. Tooryalai Wesa said only, "It's under investigation."
This is one of the prisons at which the U.S. has been providing training and funding to strengthen the Afghan secuirty guards.
The facility has undergone security upgrades and tightened procedures following a brazen 2008 Taliban attack that freed 900 prisoners. Afghan government officials and their NATO backers have regularly said that the prison has vastly improved security since that attack.
All the prisoners had left through the tunnel, taking 4.5 hours to do so, before anyone knew they were gone.
Guess they are still not ready for prime-time. How much more will it cost us to stay longer and re-train them?
(21 comments) Permalink :: Comments
There are 20,000 Marines in the Helmand province of Afghanistan. Apparently, that's not enough as the U.S. is about to send another 1,000.
Overall, there are 100,000 troops in Afghanistan. What about the Pentagon budget cuts announced today?
Cutting up to 47,000 troops from the Army and Marine Corps forces — roughly 6 percent — would be made easier by the withdrawal under way from Iraq, and the reductions would not begin until 2015, just as Afghan forces are to take over the security mission there.
One way the Pentagon plans to recoup some money: charging vets more for health insurance:
To make ends meet, Mr. Gates also announced that he would seek to recoup billions of dollars by increasing fees paid by retired veterans under 65 for Defense Department health insurance, even though Congress has rejected such proposals in the past.
And what won't be affected by the cuts:
The president's budget for the 2012 fiscal year, which is due by mid-February, would freeze discretionary spending, but that would not apply to military, veterans and Homeland Security programs.
(4 comments) Permalink :: Comments
President Obama is expected to release a review of the Administration's Afghanistan policy tomorrow. Today, there are two new reports that paint a bleak picture of Afghanistan.
In a rare public assessment of the humanitarian conditions in Afghanistan, the International Committee for the Red Cross said growing civilian casualties, internal displacement and poor medical care have created a dire humanitarian situation and are likely to persist into next year.

...Separately, in assessments reported by the New York Times, US intelligence officials said Pakistan's unwillingness to crack down on militant groups operating in the lawless borderlands had created a major obstacle to progress in Afghanistan.
The LA Times reports that NATO claims the Taliban is forcing farmers to grow poppy instead of saffron. The Taliban denies the charge.
(18 comments) Permalink :: Comments