Tag: Romney
President Obama laid out his second-term agenda in an off the record conversation with the Des Moines Register, which his campaign provided to the paper today with permission to publish. He says he will get immigration reform done in 2013. The full transcript is here.
"The second thing I'm confident we'll get done next year is immigration reform," Mr. Obama told the newspaper. "And since this is off the record, I will just be very blunt. Should I win a second term, a big reason I will win a second term is because the Republican nominee and the Republican Party have so alienated the fastest-growing demographic group in the country, the Latino community. And this is a relatively new phenomenon.
[More...]
(5 comments, 816 words in story) There's More :: Permalink :: Comments
,P.
Update
: CBS snap poll: 53% of uncommitted voters say Obama won. 23% Romney.
In a poll of 521 uncommitted voters conducted immediately after the final presidential debate, 53% of these said President Obama was the winner, 23% think Romney won, another 24% feel the debate was a tie.
Mitt's Pinocchio moment: The Apology Tour whopper. Washington Post: "Every fact checker has said the so-called 'apology tour" did not happen. Here is the Fact Checker's look at the 4-Pinocchio claim." [More...]
(107 comments, 163 words in story) There's More :: Permalink :: Comments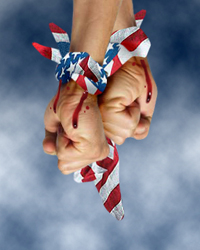 The Bush Administration legacy of torture grows, and its claims to Congress were false, according to a new report by Human Rights Watch.
The United States government during the Bush administration tortured opponents of Muammar Gaddafi, then transferred them to mistreatment in Libya, according to accounts by former detainees and recently uncovered CIA and UK Secret Service documents, Human Rights Watch said in a report released today. One former detainee alleged he was waterboarded and another described a similar form of water torture, contradicting claims by Bush administration officials that only three men in US custody had been waterboarded.
[More...]
(13 comments, 1078 words in story) There's More :: Permalink :: Comments
Above: Mitt Romney on marijuana in May, 2012
Below is a clip of Romney in 2007, "I believe marijuana should be illegal in our country." He says cancer patients don't need marijuana, "there are other sources of pain management that work entirely effectively. He says marijuana legalization "is the wrong way to go. We need less drugs in our society" and "I would oppose the legalization of marijuana." [More...]
(10 comments, 1402 words in story) There's More :: Permalink :: Comments