Tag: Taliban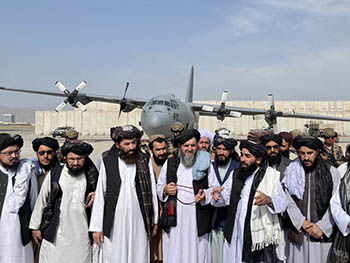 At a Congressional hearing today, there was criticism of Joe Biden's decision to withdraw from Afghanistan.
Among the comments: Fear-Mongering:
Gen. Milley: "We must remember that the Taliban was and remains a terrorist organization and they still have not broken ties with Al-Qaeda...A reconstituted Al-Qaeda or ISIS with aspirations to attack the United States is a very real possibility."
[More...]
(10 comments, 1106 words in story) There's More :: Permalink :: Comments
Zabihullah Mujahid, the spokesman for the Afghan Taliban, aka the Islamic Emirate of Afghanistan has written an open letter to Donald Trump. It was published today on Twitter, and released to journalists.
Here is the English version (I'm not sure how long it will remain up, so if you're interested, read it soon.)
He makes some good points as to why we should get out of Afghanistan for once and for all. Not surprisingly for a man of supreme incompetence and an extraordinarily limited vocabulary, Trump sent the opposite message to U.S. troops in Afghanistan today: [More...]
(1 comment, 398 words in story) There's More :: Permalink :: Comments
Long time terror defendant James Ujaama was finally sentenced yesterday. For his cooperation, he received a sentence of time served.
I've been writing about him since his arrest in 2002. He was initially arrested in Denver as a material witness in a case in Virginia, and then charged in federal court in Washington with trying to set up an al Qaida traing camp in Bly, Oregon. (The terror camp that never was.) After being detained in Seattle, he agreed to cooperate and pleaded guilty in exchange for a 2 year sentence. But he fled to Belize before sentencing, probably to avoid having to testify against Abu Hamza, the AQ Sheikh with one eye and hooks for hands, or as he later testified in 2009, because he was no longer trusted and didn't fit in. [More...]
(659 words in story) There's More :: Permalink :: Comments
Taliban leader Mullah Muhammed Omar is dead. According to Afghanistan, he died two years ago in a Pakistani hospital.
As the supreme religious figure in Afghanistan, he commanded allegiance from all Taliban and foreign fighters, including Osama bin Laden, the founder of Al Qaeda.
He had not been seen in public since 2001 and it was long rumored he was dead.
(1 comment, 196 words in story) There's More :: Permalink :: Comments
The Taliban carried out a suicide bombing attack on coalition forces in Kabul today, killing 13 Americans.
The Taliban said the bomber, Abdul Rahman, was driving a Toyota Land Cruiser SUV containing 1,540 pounds (700 kilograms) of explosives and targeting foreigners providing training for Afghan police.

...It was the deadliest single attack against the U.S.-led coalition across the country since the Taliban shot down a NATO helicopter on Aug. 6 in an eastern Afghan province, killing 30 U.S. troops, most elite Navy SEALs, and eight Afghans.
According to a U.N. report last month, "violence against civilians had risen to its highest levels of the decade-long war."
(3 comments) Permalink :: Comments
In the deadliest attack in more than a year, 8 U.S. soldiers and 2 Afghan troops have been killed in a attack by the Taliban in Afghanistan.
"Coalition forces effectively repelled the attack and inflicted heavy enemy casualties while eight Isaf and two ANSF [Afghan National Security Forces] members were killed," the Nato statement said.
The attack took place near Nuristan, a mountainous region. The Taliban says it has 35 police chiefs in custody and they will be taken before a council. There are 100,000 Nato and US forces in Afghanistan and their commander, Gen. McChrystal wants 40,000 more. So far, [More...]
(69 comments, 168 words in story) There's More :: Permalink :: Comments
The U.S. is changing policy in the war against Afghan drug traffickers. A new report to be released this week by the Senate Foreign Relations Committee says the U.S. will now keep a list of wanted Afghan drug traffickers with ties to the Taliban and hunt them down with orders to capture or kill them.
Fifty Afghans believed to be drug traffickers with ties to the Taliban have been placed on a Pentagon target list to be captured or killed, reflecting a major shift in American counternarcotics strategy in Afghanistan, according to a Congressional study to be released this week.

...United States military commanders have told Congress that they are convinced that the policy is legal under the military's rules of engagement and international law. They also said the move is an essential part of their new plan to disrupt the flow of drug money that is helping finance the Taliban insurgency.
No trial? Just shoot to kill? Wow. [More..]
(27 comments, 236 words in story) There's More :: Permalink :: Comments
Vice President Dick Cheney was whisked off to a bunker Tuesday morning in Afghanistan after a suicide bomber attacked the main entrance to the U.S. military base he was visiting.
The Taliban has taken credit for the attack. At least 23 others were killed.
...a purported Taliban spokesman, Qari Yousef Ahmadi, said Cheney was the target of the attack.
(27 comments) Permalink :: Comments