Tag: immigration raids
ICE (U.S. Immigration and Customs Enforcement) today announced 2,400 arrests during the past 7 days during Operation Cross-Check, a program in all 50 states that is "part of the Obama administration's ongoing commitment to prioritizing the removal of criminal aliens that threaten public and national security." [More...]
(9 comments, 488 words in story) There's More :: Permalink :: Comments
A report by the Immigration Justice Law Clinic at Benjamin Cardozo law school has found, based on a review of 700 arrest reports, that immigration agents broke the law and the constitution in conducting immigration raids.
Armed federal immigration agents have illegally pushed and shoved their way into homes in New York and New Jersey in hundreds of predawn raids that violated their own agency rules as well as the Constitution, according to a study to be released on Wednesday by the Benjamin N. Cardozo School of Law.

...The raids were supposed to focus on dangerous criminals, but overwhelmingly netted Latinos with civil immigration violations who happened to be present, the study said. Raiders mistakenly held legal residents and citizens by force in their own homes while agents rummaged through drawers seeking incriminating documents, the report said.
[More...]
(5 comments, 613 words in story) There's More :: Permalink :: Comments
The New York Times asks, Who's Running Immigration? saying President Obama and Janet Napolitano should put an end to the reign of terror Sheriff Joe Arpaio has instilled in Maricopa County (Phoenix), AZ.
[Arpaio] has terrorized Latino neighborhoods with relentless sweeps and has paraded shackled immigrants through the streets.

When she was the Arizona governor, Ms. Napolitano was an outspoken supporter of delegating neglected federal immigration duties to local authorities. Sheriff Arpaio is an example of that concept run amok.
The Times also asks, how did a workplace raid in Bellingham, WA take place without Obama or Napolitano knowing about it? [More...]
(34 comments, 289 words in story) There's More :: Permalink :: Comments
The immigration raid on Agriprocessors, the Postville, Iowa meatpacking plant is having greater repurcussions. Abhorrent labor conditions by the employer are coming to light.
in the aftermath of the arrests, labor investigators have reaped a bounty of new evidence from the testimony of illegal immigrants, teenagers and adults, who were caught in the raid. In formal declarations, immigrants have described pervasive labor violations at the plant, testimony that could result in criminal charges for Agriprocessors executives, labor law experts said.

Out of work and facing deportation proceedings, many of the immigrants say they now have nothing to lose in speaking up about the conditions in the plant.
More...
(11 comments, 1037 words in story) There's More :: Permalink :: Comments
The Seton Hall law school's Center for Social Justice (which does great work on behalf of the Guantanamo detainees) has filed a lawsuit against ICE challenging their immigration raids. You can read the complaint and exhibits here.
The suit, against officials of Immigration and Customs Enforcement, or ICE, on behalf of 10 plaintiffs, including two United States citizens, contends that teams of ICE agents used "deceit or, in some cases, raw force" to gain "unlawful entry."

The lawsuit claims that agents, sometimes misrepresenting themselves as local police officers hunting for criminals, entered homes where no fugitives being sought were present and detained residents without showing any legal cause. Immigration agents have broad authority to question foreigners about their immigration status, but they may not enter a home without either a warrant or consent.
Some examples of the complained of ICE actions: [More...]
(9 comments, 306 words in story) There's More :: Permalink :: Comments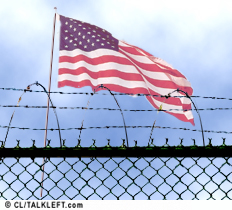 I have an op-ed today on Tuesday's immigration raids in the Washington Examiner.
I cannot accept a government that rounds people up on buses and takes them to undisclosed locations. Who is a winner here? With the exception of companies like Halliburton with federal contracts to build detention centers, I can't think of any.
Update: Pachacutec at Firedoglake writes more about what will happen to the children of those arrested.
Update: the oped is currently #38 of 14,864 articles. I hope you all read it so it gets bumped into the top ten. The Examiner is viewed as a conservative paper, so this is a chance to speak to those not in the choir.
(68 comments) Permalink :: Comments
Can it really take 1,000 federal agents to arrest undocumented workers at one meat-packing plant? According to the Washington Post, the answer is yes:
About 1,000 U.S. Immigration and Customs Enforcement agents with search warrants entered plants owned by Swift & Co., of Greeley, Colo., charging that "large numbers" of workers illegally assumed the identities of U.S. citizens or legal residents by using their Social Security numbers to get work, ICE officials said.

Company and union officials said agents, some dressed in riot gear, locked down six beef and pork processing plants early in the morning, segregating workers into groups of citizens and non-citizens after questioning. Some illegal workers were bused to detention facilities hours away, labor officials said.
This was big news in Colorado today. 9News (KUSA) set up a hotline for families of those seized so they could find out if their loved one was among those herded up like cattle and whisked off to detention facilities.
(88 comments, 296 words in story) There's More :: Permalink :: Comments