Tag: Obama (page 2)
Colorado Gov. John Hickenlooper is speaking now. I didn't find it special.
A very happy, energizer-bunny of a nun is up next. She seemed very nice but a little too cheerful.
The big flap on Jerusalem, brings to mind this fun video from "Working Girl."
I'll be back for Clinton and check the comments to see if I've missed anything. [Post speech thoughts below...]
(137 comments, 850 words in story) There's More :: Permalink :: Comments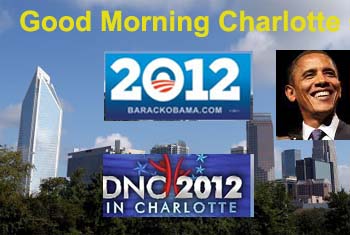 The Democratic Convention begins today in Charlotte.
The 2012 Democratic Platform is here.
We have two choices. I'll take this one.
The other choice is below:
(150 comments, 127 words in story) There's More :: Permalink :: Comments
Here's the live stream for President Obama's appearance in Boulder today. He is just beginning. "Hello Colorado."
President Obama stopped for breakfast at The Buff restaurant.
Obama ordered the Ole Skillet, which includes red skinned potatoes, chili verde jalapenos, white onions, tomatoes, cheddar cheese and two eggs a with side of toast
Reminds me of when Blagojevich stopped to eat on his way to FCI Englewood.
Obama stayed at the Westin in Westminister last night. Quips from his speech below:
(13 comments, 340 words in story) There's More :: Permalink :: Comments
President Obama today called GOP Senate Candidate Todd Akin's statement about rape and pregnancy offensive. So did Mitt Romney, but he wouldn't join other Republicans in calling for Akin should step down.
What he said (in response to a question about his opposition to abortion, even in the case of rape resulting in pregnancy:)
"From what I understand from doctors, that's really rare," Akin said. "If it's a legitimate rape, the female body has ways to try to shut that whole thing down. But let's assume that maybe that didn't work or something, I think there should be some punishment, but the punishment ought to be of the rapist, and not attacking the child."
The RNC Chair called his comments "bizzare" and "biologically stupid" and suggested he forego attending the convention. Missouri Republicans can still select a replacement candidate if Akin drops out by tomorrow at 6 p.m.
Here's the reaction of medical experts to his woefully misinformed view of pregnancy and rape. [More....]
(34 comments, 299 words in story) There's More :: Permalink :: Comments
President Obama arrived in Colorado this afternoon to meet with the victims of the Aurora shootings.
Air Force One landed at Buckley Air Force Base in Aurora, Colorado, where he is expected to stay for a two-and-a-half-hour visit. He headed straight to the University of Colorado Hospital, one of several area medical centers that received shooting victims.

Obama will not attend a community prayer vigil, which is scheduled in Aurora Sunday night. He will be briefed on the investigation, officials said, and is expected to address the public before he leaves Colorado.
Aurora Police Chief Oates approves:
"These families need that kind of contact by our elected leader," Oates told CBS' "Face the Nation." ''It will be very powerful and it will help them. As awful as what they've been through and what they're going through has been, having the president here is very, very powerful."
[More...]
(5 comments, 1527 words in story) There's More :: Permalink :: Comments
Above: Mitt Romney on marijuana in May, 2012
Below is a clip of Romney in 2007, "I believe marijuana should be illegal in our country." He says cancer patients don't need marijuana, "there are other sources of pain management that work entirely effectively. He says marijuana legalization "is the wrong way to go. We need less drugs in our society" and "I would oppose the legalization of marijuana." [More...]
(10 comments, 1402 words in story) There's More :: Permalink :: Comments
Marc Ambinder's new article suggesting Obama will shift his position on the War on Drugs if he gets re-elected doesn't offer much.
Since the United Ststes isn't about to legalize or regulate the illegal narcotics markets, the best thing a president can do may be what Obama winds up doing if he gets re-elected: using the bully pulpit to draw attention to the issue. But he won't do so before November.
The article is more a review of the documentary The House I Live In, which I wrote about in January here than it is about Obama.
I have no expectations Obama will ease up on the War on Drugs. But since we know that Republicans will keep escalating it, as they will our over-reliance on incarceration, the choice in November on this issue is clear: Obama.
(67 comments) Permalink :: Comments
Here is the statement of Attorney General Eric Holder today announcing he has named two U.S. Attorneys to investigate the recent alleged leaks of classified information:
"Today, I assigned U.S. Attorney for the District of Columbia Ronald C. Machen Jr. and U.S. Attorney for the District of Maryland Rod J. Rosenstein to lead criminal investigations into recent instances of possible unauthorized disclosures of classified information.
The Washington Post reports: [More...]
(56 comments, 337 words in story) There's More :: Permalink :: Comments

(larger version here).
President Obama was in New York last night for three fundraisers. Jon Bon Jovi, who attended all three and headlined the event at the Waldorf, was the President's guest on the Air Force One flight from Washington, DC to New York and back at the end of the evening. Some people (Obama) get all the luck.
Bon Jovi has been a huge supporter of Democratic candidates for more than a decade. In 2007, the New York Times wrote about his strong support for Hillary. He enthusiastically supported Obama when she withdrew from the race. [More...]
(33 comments, 567 words in story) There's More :: Permalink :: Comments
President Obama sings 7 seconds of an Al Green tune at a campaign appearance at the Apollo Theater in NY. He was good! He then said to Al, who was in the audience:
"Don't worry Rev, I cannot sing like you," Obama said. "I just wanted to show my appreciation."
(13 comments) Permalink :: Comments
President Obama took a stand for Democrats and seniors today. I'm canceling his pink slip notice.
Obama's plan to cut the nation's deficit is already being attacked by Republicans. The plan is in line with Democratic values. Why should those who make more than a million dollars a year pay tax only at the rate of 15%, when so many of us who earn far less are taxed at 35%? The Bush tax cuts should have been repealed a long time ago.
The plan also calls for $1 trillion in cuts for withdrawing troops from Afghanistan and Iraq. Most importantly:
The plan doesn't touch Social Security, and there is no proposed increase in the Medicare eligibility age -- a cost-saving plan the president was willing to agree to earlier in the year, to the dismay of liberals.
[More...]
(81 comments, 238 words in story) There's More :: Permalink :: Comments