Tag: 2016
Update 10:45 pm MT: Hillary just took the lead in Missouri, but it's still a virtual tie. She won the other four states today. In Florida, she got over a million votes to Bernie's 550,000.
Missouri is not a winner take all state, so a win by Bernie won't mean much. Bernie spoke in Phoenix, he looks so exhausted and he's hoarse. His first words (of course): "Phoenix, are you ready for a political revolution?" According to David Axelrod on CNN, Bernie spent $4 million on Friday in a single state. He's spending like Jeb Bush, and it seems like it will be just as futile.
Notice that Hillary's campaign is not calling on Bernie to drop out. Personally, I may think it's time, but it's probably correct to say that in the long run, if Hillary wants Bernie's supporters to vote for her in November, it's better not to antagonize them now that the end for him is obviously so close. [More...]
(78 comments, 1067 words in story) There's More :: Permalink :: Comments
There was another Democratic debate last night, sponsored by the Washington Post and Univision. The full transcript is here. The Washington Post says Hillary was grilled on tough topics like a potential indictment, Benghazi, and polls finding the American public don't think she's honest and trustworthy. After saying she takes responsibility, she adds (from the transcript:)
Look, I have said before and it won't surprise anybody to hear me say it, this is not easy for me. It's not easy to do what I think is right, to help people, to even the odds...

I am not a natural politician, in case you haven't noticed, like my husband or President Obama. So I have a view that I just have to do the best I can, get the results I can, make a difference in people's lives, and hope that people see that I'm fighting for them and that I can improve conditions economically and other ways that will benefit them and their families.
[More...]
(160 comments, 2527 words in story) There's More :: Permalink :: Comments
After the Kentucky results came in last night, Trump gave a press conference (see my last post for a recap.) During it, he touted his campaign rally in Orlando earlier in the day. He said there were 20k people at the event, and they turned another 10k people away. This got me curious. Who goes to these rallies, and what does he say at them that makes so many people want to attend? Does he give the same speech at his rallies that he does during debates and in press conferences?
To answer my questions, I watched his very long speech in Orlando. I'm assuming you won't want to, so here's a recap.
His opening words were like a shout out to the uneducated (who of course wouldn't realize it.) He said:
We're not going to be the stupid country anymore. We're not going to be the stupid people anymore. We're going to be a smart people.
[More...]
(74 comments, 1586 words in story) There's More :: Permalink :: Comments
Donald Trump is giving a press conference from Palm Beach, following his wins today in Louisiana and Kentucky. He congratulated Ted Cruz on his two wins (Maine and Kansas) and says it's time to make it a 2 person contest, between him and Cruz.
Trump calls on Rubio to drop out. He says Rubio has to get out of the race, it's time. He hasn't won anything. He says he is saying this respectfully.
Trump says he will beat Cruz. (He says it's no surprise he didn't win Kansas and Maine since he only spent 2 hours in each state. He was in Kansas this morning.) Cruz cannot take New York, New Jersey, Pennsylvania or California.[More...]
(21 comments, 985 words in story) There's More :: Permalink :: Comments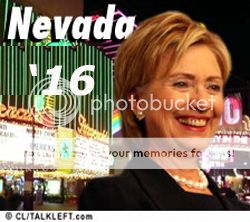 Hillary Clinton bested Bernie Sanders today in the Nevada Democratic caucuses. As of now,
Hillary has 52.5% to Bernies 47.4% with 86% of the vote in. The LA Times reports Bernie won the northern Nevada counties that Obama took in 2008, while the Washington Post says her support among African-Americans was very strong, and Bernie did pretty well among Latinos.
But according to preliminary entrance polls reported by CNN, she won among black Democrats by a whopping 76 percent to 22 percent. African Americans made up 13 percent of the electorate, according to the entrance poll, while 19 percent were Hispanic and 59 percent were white. Sanders held an eight-point edge among Hispanic voters, who accounted for roughly 1 in 5 caucus-goers, and the two candidates split white voters about evenly.
The LA Times also says Hillary won the casino vote. The Caesar's precinct chair says the vote was 190 for Hillary and 81 for Sanders. More on this from the Wall St. Journal. Here's a photo of Bill in the Caesar's ballroom at caucus time: [More...]
(51 comments, 407 words in story) There's More :: Permalink :: Comments
Yet another Republican debate tonight in Milwaukee. At least they are down to 8 candidates for the main event.
New Jersey Gov. Chris Christie and former Arkansas governor Mike Huckabee — were bumped from the main stage to the undercard, after they failed to reach a threshold of 2.5 percent in national polls.

That leaves eight candidates left in the main event: billionaire Donald Trump, retired neurosurgeon Ben Carson, Sen. Marco Rubio (Fla.), Sen. Ted Cruz (Tex.), former Florida governor Jeb Bush, former tech executive Carly Fiorina, Ohio Gov. John Kasich and Sen. Rand Paul (Ky.).
Jeb has some catching up to do. And Ben Carson still appears to be ahead of Trump. [More...]
(197 comments, 166 words in story) There's More :: Permalink :: Comments
The New York Times is pumping Joe Biden again . Why do I say that? Because as I was reading this article today, "Joe Biden Gets Serious", I felt like I had read it before. I just searched for it. Here's last week's Joe Biden Wades Further Into 2016 Bid.. The articles share a co-author. Both talk about meetings with private donors, the revving up of a draft Biden campaign, his late son's hope he'd run, supportive quotes from long time cronies, and suggestions that Hillary's campaign is in trouble. [More...]
(93 comments, 518 words in story) There's More :: Permalink :: Comments
The latest news about Joe Biden considering a bid for the Democratic presidential nomination is hardly a surprise. Joe Biden has always considered running for President in 2016. A year and a half ago, in February, 2014, he told ABC he couldn't think of any reason not to run. He said then he would decide by the end of the summer in 2015.
Joe Biden has always been there laying in the weeds, waiting for something to happen that might derail Hillary. Apparently, he thinks the time is now. [More....]
(98 comments, 542 words in story) There's More :: Permalink :: Comments
The Washington Post reports Hillary and Bill Clinton have been cozying up with former San Antonio mayor Julian Castro, giving rise to speculation she might tab him as her running mate.
Castro has been a nationally rising star since the 2012 Democratic Convention. (I wrote at the time, "Michelle Obama was good, but hands down, the star of the night was Julian Castro.) In May, Obama nominated him as Secretary of HUD. He will be sworn in on Monday. His twin brother Joaquin is a Texas congressman.
(15 comments) Permalink :: Comments
Politico today has an article, Hillary Clinton's Shadow Campaign, about a group of her supporters gearing up for 2016.
More than two dozen people in her orbit interviewed for this article described a virtual campaign in waiting — a term that itself makes some of Clinton's supporters bristle — consisting of longtime Clinton loyalists as well as people who worked doggedly to elect her onetime rival Obama.
It says there's a group of insiders and ones not so close, and they don't always see eye to eye.
The article has some speculation about who might be at the helm of her 2016 campaign, and some details about the roles of Bill and Chelsea (who has hinted 2014 may be the year for a baby.)
In interviews for this article, just about every close Hillary Clinton ally, asked to describe who is at the top of her organizational chart, gives the same answer: Chelsea....But in terms of 2016, people close to the Clintons say it is difficult to divine whether Chelsea wants her mother to run.
The bottom line is that no one knows whether Hillary will run. I'm sure it's tempting, but I tend to think she won't run.
(135 comments) Permalink :: Comments