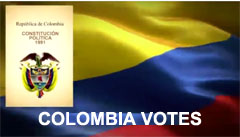 Update: With 54% of the vote counted, right wing candidate Ivan Duque has been elected President of Colombia. Really disappointing. Both candidates had a female running mate. Marta Lucía Ramírez will be the first female VP of Colombia. (Had Petro won, the VP would have been Ángela María Robledo. As of the results so far, Duque won in Medellin by 500,000 votes while Petro won in Bogota by 400,000 votes.
Original Post:
Colombia voted in the runoff election today for President. Their choice is right-wing Ivan Duque or leftist Gustavo Petro, a former M-19 rebel and Mayor of Bogota. Harvard-educated Duque, who has the support of evangelicals and ultraconservatives that reject gay marriage and adoption, as well as uber-right former President Alvaro Uribe, and is a huge proponent of escalating the war on drugs, is favored to win. It's seen as a classic fight between right and left. [More...]
(3 comments, 928 words in story) There's More :: Permalink :: Comments
I woke up just in time to watch Prince Harry and Meghan Markle exchange vows and be proclaimed husband and wife. It was a very pretty ceremony with very nice music. The only thing I didn't see or hear was "You may kiss the bride."
Prince Charles and Camillia are there, as are Queen Elizabeth and Prince Andrew, and Prince William and Kate. I think the only other people I recognized are James Corden and his wife and George and Amal Clooney.
Meghan and Harry just re-entered the chapel and everyone sang "G-d Save the Queen." They just got outside to cheers and finally, they kiss. Meghan now is all smiles.
Congratulations to the happy couple, now to be known as the Duke and Duchess of Sussex. It's a gorgeous day in London, and the couple are now entering a horse drawn carriage and riding off to the acclaim of all. Princess Charlotte held a bouquet and waved them off, it was very cute.
(12 comments) Permalink :: Comments
Raul Castro is resigning as President of Cuba. His replacement (the sole nominee) will be First Vice President Miguel Mario Diaz-Canel Bermudez.
Wednesday's announcement confirms the long-held expectation that Diaz-Canel would take over from Castro in a transition meant to ensure that the country's single-party system outlasts the aging revolutionaries who created it.

The nomination must be now approved by the 604 delegates attending the National Assembly, which always approves nominations with total or near-total unanimity.
Raul Castro will remain head of the Communist party. Diaz-Canel is expected to ensure that Cuba remains a one party system. He's no reformer.
Ivanka Trump, the eldest daughter of Donald Trump, whose shoe factory in China has been reported for violating human rights, has traveled to Japan to speak at the country's "World Assembly of Women" conference.
Has her father become so unpopular that he needs Ivanka to grease the skids for him? He arrives two days later:
That visit will include a round of golf at a fancy country club and a banquet, but no headline speech. That job will fall instead to his daughter. Ivanka Trump will give a "special speech" on female entrepreneurship and women's participation in the economy.
Donald Trump's approval rating is at the lowest rate ever. Is he now using his model-ish looking daughter as a foil? [More...]
(6 comments, 584 words in story) There's More :: Permalink :: Comments
Otto Warmbier has died. His parents released this statement:
It is our sad duty to report that our son, Otto Warmbier, has completed his journey home. Surrounded by his loving family, Otto died today at 2:20pm.

...Unfortunately, the awful torturous mistreatment our son received at the hands of the North Koreans ensured that no other outcome was possible beyond the sad one we experienced today. When Otto returned to Cincinnati late on June 13th he was unable to speak, unable to see and unable to react to verbal commands. He looked very uncomfortable — almost anguished. Although we would never hear his voice again, within a day the countenance of his face changed — he was at peace. He was home and we believe he could sense that.
I believe (and hope) he could sense it too. This is such a sad story and such an unnecessary death. [More...]
(21 comments, 319 words in story) There's More :: Permalink :: Comments
Three men in white van drove into passerbys at the London Bridge. London Bridge station has been shut down.
A second incident was reported at nearby Borough Market, where some men jumped out of a car and started randomly stabbing people.
Police say shots were fired and there is at least one fatality. A third incident (as yet undefined) occurred at the Vauxhall area of south London. London police say that was a stabbing but is unrelated to the first two incidents.
Here is the London police twitter feed. BBC is updating here. Here's a map.
The Daily Mail now has auto-play video. Buzzfeed for some reason includes in its news article what Donald Trump tweeted about this. Who cares? It has nothing to do with him. No links for either.
(15 comments) Permalink :: Comments
France dodged a right-wing bullet by electing Emmanuel Macron. Marine Le Pen has conceded the race.
I heard earlier on the car radio that French turnout was high -- 77% or so. That may be considered high when compared to the U.S. which has hovered around 55%. But reports are that the French turnout was around 75%, lower than the past two French elections. Then again, this report has French turnout in 2012 at 71%. (Belgium had an 87.2 percent turnout rate in 2014, Turkey's was 84.3 percent in 2015, and Sweden's was 82.5 percent in 2014.)
Regardless, it was not a close race. Marcron won 65.% to Le Pen's 35%.
Lucky for France they don't have an electoral college.
(15 comments) Permalink :: Comments
More than 250 people, including at least 60 children, have been killed by the huge mudslides in Mocoa, Colombia.
Colombian President Juan Manuel Santos has been in Moca since yesterday, and he's tweeting continuous updates. The heads of dozens of countries have expressed their condolences to the people of Colombia. Many have offered aid, including China. One country prominently missing from Santos' twitter feed: the United States. Where's Donald Trump?
What does the State Department have to say about Colombia in its website and Twitter pages? Nothing so far. [More..]
(443 words in story) There's More :: Permalink :: Comments
Julian Assange is happy tonight. Leftist candidate Lenin Moreno has been declared the winner in Ecuador's presidential election. Moreno defeated right-wing ex-banker Guillermo Lasso. Earlier Sunday, dueling exit polls had each of them winning.
Here is Moreno's Twitter account.
Lasso sounds like a Trump clone. [More...]
(9 comments, 500 words in story) There's More :: Permalink :: Comments
President Obama today expelled 35 Russian alleged spies and imposed sanctions on two Russian intelligence agencies for meddling in the 2016 Presidential election by hacking political groups.
The FBI and Homeland Security blame Russia both for hacking and meddling in the U.S. election. Here is the report by Homeland Security and the FBI on the Russian hacking
This Joint Analysis Report (JAR) is the result of analytic efforts between the Department of Homeland Security (DHS) and the Federal Bureau of Investigation (FBI). This document provides technical details regarding the tools and infrastructure used by the Russian civilian and military intelligence Services (RIS) to compromise and exploit networks and endpoints associated with the U.S. election, as well as a range of U.S. Government, political, and private sector entities. The U.S. Government is referring to this malicious cyber activity by RIS as GRIZZLY STEPPE.
The Report confirms: [More]
(114 comments, 251 words in story) There's More :: Permalink :: Comments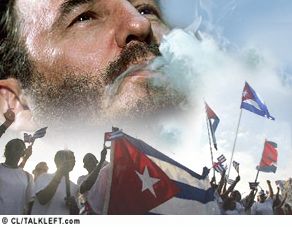 Fidel Castro died Friday, November 25, 2016. He was 90 years old.
Raul Castro has pledged to step down in 2018. What then? The New York Times reports on how the power likely will pass -- to a lot of Raul's children. [More....]
(51 comments, 2083 words in story) There's More :: Permalink :: Comments