A new Pew Report shows support for the death penalty for convicted murderers has dropped to 55%, the lowest level since the 1970's. Among the reasons:
...a steep drop in the incidence of violent crime, and greater attention to wrongful convictions, which has led to more than 1,300 convicts being exonerated through DNA evidence, revelations of faulty forensic work, or other means. (Recent reports of prolonged executions and the difficulties many states have had in procuring drugs for lethal injections also may be factors in shifting public opinion.)
Since 1973, the U.S. has executed 1,373 people. According to the National Registry of Exonerations, 1,339 people have been exonerated since 1989, 106 of whom were sentenced to death. Only 1/3 of the exonerations involved DNA evidence.
All but two of the executions were at the state level. The highest number of executions: Texas, with 512. After that: Virginia and Oklahoma (110 each), and then Florida, Missouri and Alabama.
(8 comments) Permalink :: Comments
There's a big fight going on in Oklahoma over the scarcity of execution drugs and the use of substitute drugs. Oklahoma is running short on two of the three drugs in its death cocktail and the Court just delayed two executions set for April.
Katie Fretland, writing in Colorado's The Independent, has an excellent report on this. She also made a FOIA request for Oklahoma records. Among other things, the records she received show executioners had injected leftover drugs into the corpses of the executed inmates to dispose of the drugs.
Convicts executed in Oklahoma have in some cases died from overdoses of pentobarbital or sodium thiopental, the anesthetic, rather than the second and third injections in the three-drug cocktail, according to documents obtained by The Independent. Records show executioners then injected the remaining two drugs into convicts' dead bodies for what forms turned over in response to an open-records request refer to as "disposal purposes."

Jerry Massie, the spokesman for the prison system, defended the practice, saying it follows state protocol.
[More...]
(20 comments, 806 words in story) There's More :: Permalink :: Comments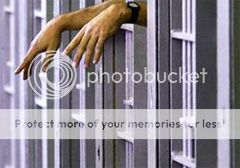 Texas death row prison guards at the Polunsky Unit in Livingston, TX are calling for an end to solitary confinement and more humane conditions for death row inmates:
Staff leaders say years of solitary confinement and sensory deprivation literally drive inmates mad and make them more likely to wound the guards, riot or attempt escape.

The guards want inmates to be able to share two to a cell and use an iPad or similar computer tablet to watch television on a secure internal network as incentives for good behaviour.
[More...]
(25 comments, 251 words in story) There's More :: Permalink :: Comments
Washington Governor Jay Inslee today suspended the use of the death penalty in the state for the duration of his term.
"There have been too many doubts raised about capital punishment, there are too many flaws in this system today," Inslee said at a news conference. "There is too much at stake to accept an imperfect system."
The decision is part of a growing trend.
Last year, Maryland abolished the death penalty, the 18th state to do so and the sixth in the last six years.
More from Inslee: [More...]
(33 comments, 280 words in story) There's More :: Permalink :: Comments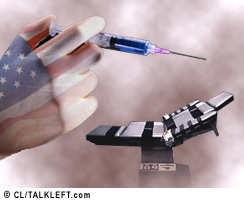 Ohio's experiment with a new execution cocktail didn't go very well:
Dennis McGuire struggled, repeatedly gasping loudly for air and making snorting and choking sounds, before succumbing to a new two-drug execution method today.

The 24-minute execution process was a "failed, agonizing experiment by the state of Ohio," said one of the killer's attorneys, Allen Bohnert, a federal public defender. "The people of the state of Ohio should be appalled by what was done in their name."
Shorter version: You wouldn't do a dog this way. More here. In 2007, Amnesty International released a report on botched U.S. executions.
This is not Ohio's first botched execution. [More...]
(50 comments, 200 words in story) There's More :: Permalink :: Comments
Florida Attorney General Pam Bondi requested an execution be continued to accommodate her re-election campaign. She was scheduled to attend a fundraiser kicking off her re-election campaign. Gov. Scott accommodated her request, not knowing the reason.
[Marshall Lee]Gore was initially scheduled for execution in June, but the date was twice delayed because of legal skirmishes over Gore's sanity.

After Gov. Scott last month rescheduled the execution for Sept. 10, the date of Bondi's "hometown campaign kickoff" at her South Tampa home, Bondi's office asked that it be postponed. The new date is Oct. 1.
The relatives of the victims were not pleased. Also, as AG, Bondi has been fighting challenges to Florida's 2013 "Timely Justice Act" to speed up executions.
After much just criticism, Bondi apologized today, calling the request a mistake. [More...]
(11 comments, 221 words in story) There's More :: Permalink :: Comments
Billy Slagle has been on death row since his murder conviction in 1988. He was 18 at the time of the crime. His execution date was set for Tuesday. This morning, he was found hanged in his cell. He was in solitary confinement.
Cuyahoga County prosecutors joined Slagle's family in asking for a reprieve, urging [Gov. John]Kasich to commute his sentence to life in prison without parole -- a sentence the prosecutor's office said had not been available at the time.
Gov. Kasich denied the request on July 24.
(30 comments) Permalink :: Comments
A federal jury in Virginia has rejected the Government's request for the death penalty in the case of the three remaining Somali pirates charged with killing Americans on their sailboat 40 miles off the coast of Somalia.
Under federal law, a sentence to death must be unanimous. In this case, one juror held out for life on one defendant, while two jurors felt life was appropriate for the other two.
Originally, there were 19 pirates on board when the shootings occurred. [More...]
(26 comments, 1986 words in story) There's More :: Permalink :: Comments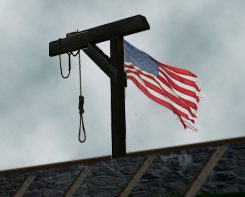 (Note: Links added and blockquoting fixed.)
A federal jury in Brooklyn has sentenced Ronell Wilson to death for killing two undercover cops a decade ago. Wilson was previously convicted and sentenced to death, but the Second Circuit reversed the death sentence due to prosecutorial misconduct during closing arguments.
That sentence was overturned in 2010, when an appeals court ruled that prosecutors had unfairly tried to influence the jury in the case.

The court specifically faulted prosecutors for arguing that Wilson's claims of remorse should be discredited because he declined to plead guilty and refused to testify in his trial.
More...]
(63 comments, 875 words in story) There's More :: Permalink :: Comments
Colorado Governor John Hickenlooper today granted a reprieve from the death penalty to Nathan Dunlap, who is scheduled to be executed in August for killings 15 years ago at a Chuck E. Cheese pizza parlor.
The reprieve is not clemency. A future governor could lift it. But it means Dunlap's execution date is canceled and Hickenlooper says he is unlikely to revisit the decision.
"It is a legitimate question whether we as a state should be taking lives," the order says. "Because the question is about the use of the death penalty itself, and not about Offender No. 89148, I have opted to grant a reprieve and not clemency in this case."
The Governor's press release is here. The Executive Order granting the reprieve is here. [More...]
(9 comments, 1577 words in story) There's More :: Permalink :: Comments
Interesting segment last night on Fox News 31 (Denver) on the cost to taxpayers of prosecuting Aurora Theater Shooting defendant James Holmes as a death penalty case. It explains the cost is likely to be in the tens of millions of dollars. It brings up the Nathan Dunlap case, brought by the same office. Dunlap was recently scheduled for execution in August and a petition for clemency is pending. The cost of his case so far: $18 million.
It also points out that the D.A. turned down Holmes' offer to plead guilty and accept life without parole. I kept waiting for some former DA to come on and attempt to justify the decision to seek the death penalty. It didn't happen. Maybe they couldn't find anyone to take the other side.
(8 comments) Permalink :: Comments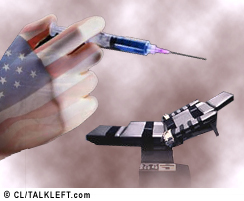 Maryland has become the 18th state to ban the death penalty since 1976.
What happens to the five inmates on Maryland's death row?? The Guardian explains it's an unknown as yet.
Other states repealing the death penalty in the recent years: Connecticut, Illinois, New Jersey, New Mexico and New York.
Colorado legislators will be debating a bill to repeal the death penalty very soon. [More...]
(11 comments, 1129 words in story) There's More :: Permalink :: Comments