R.I.P. Marco Archer Cardoso Moreira (Brazil), Ang Kiem Soei (The Netherlands), Daniel Enemuo (Nigeria), Namaona Denis (Malawi), Tran Thi Bich Hanh (Vietnam) and Rani Andriani (Indonesia.) Despite pleas from governmental leaders and world-wide criticism, the four men and two women were executed just after midnight in Indonesia. There are 58 more convicted drug offenders on Indonesia's death row.
For background, see my earlier post today here, this from yesterday, this post from a few days ago and this one from over a year ago.
It seems not much has changed in Indonesia. The five who were executed on Nusakambangan Island, in Central Java, were taken from their cells in the dead of night and driven to a remote spot several miles away where they were shot in pairs. Media and families were of those killed were not allowed to be present. Reactions from the governments in the home countries of those killed was swift: [More....]
(10 comments, 687 words in story) There's More :: Permalink :: Comments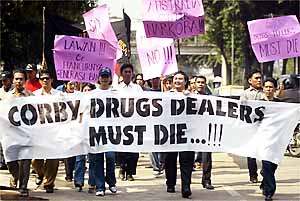 Indonesia does not deserve your tourist dollars. Many Indonesians support their barbaric laws against drug traffickers. This is how many on Bali reacted to Schapelle Corby's arrest for 4.4 kilos of marijuana. This weekend, six drug traffickers, including five foreigners, will be killed by firing squads in Indonesia. Indonesia's President has rejected requests from leading officials of Brazil, the Netherlands and Australia not to kill their citizens.
Death is neither quick or painless when you are tied to a wooden cross and shot. The same fate awaits Bali Nine Australians Andrew Chan and Myuran Sukumaran.(Indonesia claims the executioners now walk right over to those they just shot and shoot them again behind the ear to make sure they are dead.)
There are beautiful beaches all over the world. There is no reason to give your tourist dollars to a country that executes drug traffickers. [More...]
(19 comments, 828 words in story) There's More :: Permalink :: Comments
Indonesia will kick off its execution binge of 20 drug traffickers with the first six this weekend. Five are from foreign countries.
Attorney General HM Prasetyo confirmed on Thursday that five people — four men and a woman — would face the firing squad on Nusakambangan Island, Central Java, while one woman would face the firing squad in Boyolali, Central Java.

"We have prepared everything; the firing squad, clergymen and doctors. The executions will be done simultaneously, not one by one," he said.
The Netherlands, Brazil and the European Union have asked Indonesia to call off the killings. It says it won't. Amnesty International issued this protest. [More...]
(4 comments, 300 words in story) There's More :: Permalink :: Comments
The Oklahoma Department of Public Safety has released its report into the botched execution of Clayton Lockett. It says the problem was in the placement of the IV lines, not with the drugs. It calls for increased training of execution personnel.
Department Chief Michael Thompson says "no single person was to blame for the foul-ups and no charges are being considered." Translation: No accountability.
The report is here.
(29 comments) Permalink :: Comments
Records released in Arizona's botched 2 hour execution show inmate Joseph Wood was injected with 15 times the amount of lethal injection drugs called for by Arizona's death protocol.
"The Arizona execution protocol explicitly states that a prisoner will be executed using 50 milligrams of hydromorphone and 50 milligrams of midazolam," Dale A. Baich, one of the lawyers who represented Mr. Wood, said in a statement.

...Mr. Wood was injected with 750 milligrams of hydromorphone and 750 milligrams of midazolam in all.
It was expected that Wood would be dead in 10 minutes. It took almost 2 hours. [More...]
(13 comments, 266 words in story) There's More :: Permalink :: Comments
Joseph Wood was executed in Arizona yesterday. It took two hours to kill him. The execution was not halted, even though he repeatedly gasped and snorted during it.
An Associated Press reporter who witnessed the execution saw Wood start gasping shortly after a sedative and a pain killer were injected into his veins. He gasped more than 600 times over the next hour and 40 minutes.
Most disgusting comment, from a relative of the victim named Richard Brown:
Why didn't we give him Drano?
(23 comments) Permalink :: Comments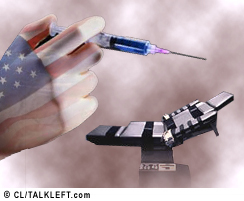 The 9th Circuit Court of Appeals has stayed the execution of Arizona inmate Joseph Wood. The Court says he has a First Amendment right to know the details of the two-drug cocktail the state intends to use in killing him and the qualifications of the personnel who will administer them.
(9 comments, 795 words in story) There's More :: Permalink :: Comments
A federal judge in California has ruled California's death penalty system is unconstitutional. He says a death sentence in California is nothing but a penalty of "life with the remote possibility of death." The opinion is here. Since the penalty is so rarely carried out (no one has been executed since 2006), "the death penalty is about as effective a deterrent to capital crime as ther /> possibility of a lightning strike is to going outside in the rain."
This is a problem that has festered in California for years. A major problem, as the judge notes in yesterday's opinion, is California's refusal to adequately fund lawyers. While many media articles briefly mention this, it is a significant part of the judge's decision. [More...]
(3 comments, 969 words in story) There's More :: Permalink :: Comments
The Georgia Supreme Court yesterday ruled its state law allowing anonymity for the makers of execution drugs, pharmacists and other personnel involved in executions is constitutional. A lower court had previously declared the law. unconstitutional.
From the opinion:
This case presents the question of whether it is unconstitutional for the State of Georgia to maintain the confidentiality of the names and other identifying information of the persons and entities involved in executions, including those who manufacture the drug or drugs to be used.

We hold that it is not, and we reverse the ruling of the Superior Court of Fulton County in which it granted an interlocutory injunction prohibiting the execution of Warren Lee Hill with a drug from a confidential source in order to consider that question.
As to why it's okay, check out this flippant statement:
"Particularly unpersuasive is Hill's expert's testimony that certain contaminants also could have the following effect: 'Their blood pressure would drop precipitously, and ultimately it's possible that they could die.'

"Such a side effect obviously would be shockingly undesirable in the practice of medicine, but it is certainly not a worry in an execution."
Who is Warren Lee Hill? A mentally deficient death row inmate who challenged the law. [More...]
(1 comment, 409 words in story) There's More :: Permalink :: Comments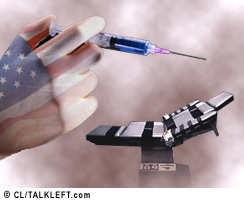 Update: The full 8th Circuit reversed the panel decision and reinstated the execution. Supreme Court Justice Samuel Alito stepped up and issued a stay pending a further order by him or the Court. His stay order is here.
Update: The 8th Circuit has stayed the execution.
Via the Atlantic: Andrew Cohen writes that Russell Bucklew, scheduled for execution in Missouri tomorrow, is likely to be the next death penalty disaster for the U.S. That's because Bucklew has serious health issues.
According to the testimony of Dr. Joel Zivot, a defense expert witness in the case, Bucklew "has a tumor growing in his face, occupying the nose, throat, and airway passages and causing him to experience constant facial pain and pressure as well as constant difficultly breathing." The congenital cavernous hemangioma, the doctor asserts, "results in a significant and dangerous compromise" of Bucklew's airways.
[More...]
(683 words in story) There's More :: Permalink :: Comments
Robert Patton, Director of Oklahoma's Department of Corrections, has written a letter (available here) to the Governor with a timeline of events in the botched execution of Robert Lockett earlier this week.
First, the executioners spent 51 minutes trying to find a suitable vein in Lockett's arm. When they couldn't, they inserted an IV tap into his groin. [More...]
(51 comments, 603 words in story) There's More :: Permalink :: Comments
Update: The execution was botched and halted, but the inmate then had a heart attack and died. The execution of the second inmate was postponed.
Despite the controversy over lethal injection drugs, Oklahoma will proceed tonight to kill two inmates. The federal defender for one of them says:
"Tonight, in a climate of secrecy and political posturing, Oklahoma intends to kill two death row prisoners using an experimental new drug protocol, including a paralytic, making it impossible to know whether the executions will comport with the Eighth Amendment's ban on cruel and unusual suffering...We have serious questions — were these drugs imported, are they counterfeit, what is the expiration date, are they tainted?"
Oklahoma's new drug protocol has not yet been tested. One of the drugs, the one that sedates and reduces pain, will be given in a much smaller amount that provided by another state that uses the same drug in its death cocktail.
(27 comments, 492 words in story) There's More :: Permalink :: Comments