Subsections: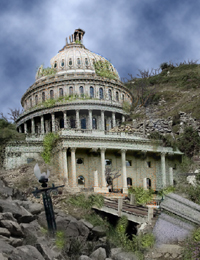 The Fourth Circuit Court of Appeals has upheld 10 of the 11 counts of bribery, money laundering, wire fraud and RICO (organized crime) on which former LA Congressman William Jefferson. Jefferson was convicted. Jefferson is serving a 13 year sentence. The Court vacated a wire fraud count but that will not affect his sentence. The Court said Virginia was not the appropriate place for a count involving a phone call between Kentucky and Africa. More on today's decision here.
Here how the jury decided the 16 counts against him. The case began when: [More...]
(1 comment, 469 words in story) There's More :: Permalink :: Comments
Update: The longest 60 seconds of Blago's life is probably this walk (video)from the car into the prison. Via the Denver Post, here's his real welcome crew.
*****
The media circus surrounding Rod Blagojevich continued today as he flew commerically to Denver and made his way to FCI Englewood.
Followed by helicopters and television news crews on the road that brought to mind the low speed chase of

O.J.

Simpson, Blagojevich arrived at Chicago's O'Hare International Airport. A mob of travelers took photographs on their cellphones as Blagojevich, his arms raised, stood in a body scanner before heading to down the concourse.
[More..]
(9 comments, 474 words in story) There's More :: Permalink :: Comments
Via NBC News Chicago, above is the video of former Illinois Governor Rod Blagojevich's goodbye press statement before heading off to prison at FCI Englewood (photo here) in Colorado tomorrow .
Patti is with him. The house is mobbed by media as well as onlookers and supporters. He is incredibly upbeat, Patti looks absolutely devastated.
I intended to live-blog his speech but it was too compelling to type through. I had to just watch. A summary is below: [More...]
(10 comments, 793 words in story) There's More :: Permalink :: Comments
Rod Blagojevich begins his 14 year prison sentence on Thursday. At 5 pm CST today, he will hold a press conference at his home. The next morning he will fly to Colorado with his attorney, and surrender at FCI Englewood, a low security level prison outside of Denver.
There will be many saying Blagojevich got his due. I think the sentence is too harsh. He's neither violent nor a safety threat, the conviction ended his public career and ostracized him. He's broke. His daughters will grow up without a father. One day he's here, next day he's not.
FCI Englewood is pretty decent for a prison. But it's still a prison and I doubt anything can prepare him for the lack of privacy, boredom and the strict regimentation he's about to experience.[More...]
(26 comments, 342 words in story) There's More :: Permalink :: Comments
The judge presiding over Rod Blagojevich's criminal case has agreed to recommend the Bureau of Prisons admit him to RDAP -- the residential drug and alcohol program that allows inmates who successfully complete it to cut up to a year off their prison terms.
The news is reporting he asked for drug treatment even though Blago's attorneys gave no reason for the request. Also the reports state Team Blago asked he be placed in the program when he starts his sentence.
First of all, the program is for drug and/or alcohol treatment, so there's no reason to assume the request was based on drug use. [More...]
(2 comments, 201 words in story) There's More :: Permalink :: Comments
The judge in Rod Blagojevich's case has recommended to the Bureau of Prisons that he be designated to the low-level prison in Englewood, Colorado, outside of Denver. (BOP website for Englewood here.)
Blagojevich isn't eligible for a camp because his sentence exceeds 10 years. So a low security facility is the next best thing. Englewood is pretty decent. Lots of clients want to go there. (Here's the Commissary list.)It also has an adjacent camp which he can get to when he does qualify.
He may even find friends there. Enron's Jeffrey Skilling is serving his sentence at Englewood, and he doesn't get out until 2028.
A judge's recommendations are not binding on the Bureau of Prisons, so it's not a certainty that's where he will go. Bed space may play a role. The judge also extended Blago's surrender date until March 15, to give him more time to sell his home.
(25 comments) Permalink :: Comments
Former Panama General Manuel Noriega served 17 years in prison in the U.S. for drugs and 2 years in France for money laundering. This weekend, at his request, he was returned to Panama to begin serving three 20 year sentences. He's now 77 and in a wheelchair.
Noriega was toppled in a US invasion of Panama in 1989. He was convicted in absentia in three homicide cases involving 11 murders, including the 1985 beheading of a doctor who threatened to reveal Noriega's drug ties. He was also responsible for the executions of nine officers who staged a failed coup.
Here are some photos of Noriega's arrest by U.S. DEA agents in Panama. The lead take-down agent, DEA group supervisor, Rene DelaCova, pleaded guilty 1n 1994 to stealing $700,000 from drug traffickers in an unrelated case. He got a 3 year sentence. [More...]
(9 comments, 221 words in story) There's More :: Permalink :: Comments
Former Illinois Governor Rod Blagojevich has been sentenced to 168 months, 14 years in prison. He will be allowed to voluntarily surrender on Feb. 16. Since there is no parole in the federal system, only good time, he'll do about 12 years.
Blagojevich told the Court this morning he was sorry and accepted that he committed crimes. He asked the court to be merciful. He spoke for 18 minutes. The Judge recessed for 20 minutes and then resumed to impose sentence. The best Twitter coverage hands-down is WCIA Steve, aka Steve Staeger. All of the following comes from him (not in order): [More...]
(34 comments, 397 words in story) There's More :: Permalink :: Comments
The sentencing hearing of former Illinois Governor Rod Blagojevich is underway. The judge has said he won't rule until tomorrow. The best place to follow is Twitter.
This morning the parties debated the sentencing guidelines. The Judge sided with the Government, finding the criminal activity was extensive, Blago had a leadership role and he tried to get $1.5 million for the senate seat. That puts the guidelines at 30 years to life.
"It should be noted that I agree with the government and the defense for that matter that the guideline that is correctly computed for this of 30 years to life is simply not appropriate given the facts of this case."
So the Judge will grant a departure and/or variance from the guidelines, but how much? [More...]
(11 comments, 281 words in story) There's More :: Permalink :: Comments
Former Illinois Governor Rod Blagojevich faces sentencing tomorrow morning. The Government is seeking a 15 to 20 year sentence. In a filing today, prosecutors argued he has shown no remorse and continues to blame others for his predicament. From their filing, available on PACER:
Blagojevich repeatedly committed serious criminal acts that have done enormous damage to public confidence in Illinois government. He has refused to accept any responsibility for his criminal conduct, continues to blame others for his criminal misdeeds, and has no mitigating factors beyond those frequently found in this
Courthouse.
[More...]
(15 comments, 567 words in story) There's More :: Permalink :: Comments
Update
: Tony Rezko was sentenced today to
10 1/2 years in prison
. Since he's served 45 months, with good time of 54 days a year after the first year, he should be out in about 5 years.
****
Antoin (Tony) Rezko finally faces sentencing today in Chicago. Prosecutors are asking for 11 to 15 years. Rezko is asking for time served (53 months.)
Last week I read through the initial 100 pages of sentencing pleadings filed, and summarized the arguments.
On Friday, Rezko filed another response, alleging among other things:[More...]
(11 comments, 1059 words in story) There's More :: Permalink :: Comments
Now that the last of the Chicago corruption cases related to former Illinois Gov. Rod Blagojevich has concluded (with the conviction of William Cellini last week), it's finally time for Antoin (Tony) Rezko and Rod Blagojevich to learn their fate.
Today the Judge scheduled sentencing for Rod Blagojevich for December 6. The Government has not yet filed its sentencing statement. Tony Rezkco's sentencing is November 22 and the Court recently unsealed Rezko's sentencing position and ordered the Government's to be filed publicly. The Government filed its statement last Thursday, seeking 11 to 15 years for Rezko, which includes a reduction for cooperation and his harsh conditions of confinement. Rezko is seeking time served (44 months.)
I've just read through the 100 pages of pleadings. This post is long, but it contains both sides' arguments and is a lot shorter than the 100 pages filed by the parties. If you're so inclined, read through, and tell us what sentence you think Rezko should or will receive. [More..]
(6 comments, 2391 words in story) There's More :: Permalink :: Comments