Subsections:
The 4th Circuit Court of Appeals has upheld the corruption convictions of Virginia former Governor Robert McDonnell. The opinion is here. McDonnell was sentenced to two years in prison and has been free pending appeal. What he did:
Over the course of five weeks of trial, federal prosecutors sought to prove that former Governor of Virginia Robert F. McDonnell ("Appellant") and his wife, Maureen McDonnell, accepted money and lavish gifts in exchange for efforts to assist a Virginia company in securing state university testing of a dietary supplement the company had developed. The jury found Appellant guilty of eleven counts of corruption and not guilty of two counts of making a false statement.
[More...]
(4 comments, 199 words in story) There's More :: Permalink :: Comments
William Barone and Bridget Anne Kelly have been indicted in the Chris Christie bridge scandal. The Indictment is here and is quite detailed. It does not appear to implicate Chris Christie.
Barone is the former deputy executive director of the Port Authority of New York and New Jersey. Kelly is a former deputy chief of staff to Chris Christie. They were charged in nine counts, including conspiracy to commit fraud by "knowingly converting and intentionally misapplying property of an organization receiving federal benefits". [More...]
(17 comments, 282 words in story) There's More :: Permalink :: Comments
Former Va. Gov. Bob McDonnell was sentenced to two years in prison today. Probation recommended, and prosecutors sought a 10 to 12 year sentence, in accordance with the guidelines.
Good lawyering by the defense team. The sentencing guidelines are not mandatory and there is not even a presumption that they represent the correct sentence. They are only the starting point in the judge's consideration, and the judge here appropriately exercised his discretion.
(43 comments) Permalink :: Comments
Former Virginia Governor Bob McDonnell and his wife Maureen McDonnell were convicted on an array of corruption charges today.
The 7-man, 5-woman jury returned its findings on the third day of deliberations here in United States District Court for the Eastern District of Virginia. Both McDonnells, who now face years in prison, were acquitted of lesser charges of making false statements on loan applications, while Ms. McDonnell was convicted on a charge she alone faced, of obstructing a grand jury investigation by trying to make a gift of $20,000 worth of designer dresses and shoes appear to have been a loan.
The McDonnells were accused of selling McDonnell's office during a 24 month period to a vitamin salesman named Jonnie R. Williams, Jr., who gave the McDonnells $170,000 in gifts, money and "no document loans." Williams was a chief witness against them, having made a deal with the Government for immunity. His company was the subject of an SEC investigation. [More...]
(57 comments, 319 words in story) There's More :: Permalink :: Comments
Texas Governor Rick Perry has been indicted in Texas on charges of abuse of power.
A grand jury indicted Gov. Rick Perry on two felony counts on Friday, charging that he abused his power last year when he tried to pressure the district attorney here, a Democrat, to step down by threatening to cut off state financing to her office.

The indictment left Mr. Perry, a Republican, the first Texas governor in nearly 100 years to face criminal charges and presented a major roadblock to his presidential ambitions at the very time that he had been showing signs of making a comeback.
Perry's lawyer calls it "partisan theatrics." I wouldn't be surprised if that's true. Shades of Tom DeLay?
(43 comments) Permalink :: Comments
Gov. Chris Christie sent this email in response to the media flap caused by a letter written by the lawyer for David Wildstein, the former Port Authority official involved in the lane closure scandal who has been seeking an immunity deal and payment of his legal fees.
I had written a long post with a lot of links on this yesterday but it got eaten by the computer when I accidentally closed the tab before publishing it. I don't have time to rewrite it all, so I'll just say it made many of the same points Christie does about the letter.
The lawyer's letter, which was carefully and ambiguously worded, didn't prove anything, let alone that what Christie said at the news conference was false. Here's the transcript of Christie's Jan. 9 press conference. [More...]
(88 comments, 646 words in story) There's More :: Permalink :: Comments
Former New Orleans mayor Ray Nagin goes on trial tomorrow on 21 charges of bribery, honest services wire fraud, money laundering conspiracy and filing false tax returns. Essentially, he's charged with accepting bribes and kickbacks in exchange for granting lucrative city contracts,
As is typical in these cases, the Government's witnesses include plenty of wrongdoers singing for their supper.
NOLA.com's live trial coverage page is here.
(4 comments) Permalink :: Comments
The 7th Circuit Court of Appeals heard oral arguments Friday in the appeal of former Illinois Gov. Rod Blagojevich.
Blagojevich's attorneys had to be happy that the panel raised questions about the heart of their defense that the attempted sale of a U.S. Senate seat was political horse-trading and that prosecutors had unfairly made it into a crime.
Does that bode well for Blago? Impossible to know. Predicting how an appeals court will rule is usually a futile exercise.
While Blago could not attend the hearing, his wife Patti did and addressed the media afterwards: [More...]
(26 comments, 219 words in story) There's More :: Permalink :: Comments
Here is Kim Dotcom's lawyers' new White paper on why the charges against him are untenable:
The U.S. government's case against Megaupload is grounded in a theory of criminal secondary copyright infringement. In other words, the prosecution seeks to hold Megaupload and its executives criminally responsible for alleged infringement by the company's third-party cloud storage users.

The problem with the theory, however, is that secondary copyright infringement is not – nor has it ever been – a crime in the United States. The federal courts lack any power to criminalize secondary copyright infringement; the U.S. Congress alone has such authority, and it has not done so.
[More...]
(14 comments, 287 words in story) There's More :: Permalink :: Comments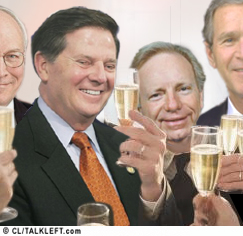 The Texas 3rd Court of Appeals has reversed the conviction of Former Congressman Tom DeLay for money laundering and conspiracy, finding the evidence insufficient to convict him. The reversal is an acquittal which means he cannot be retried. Nor will he have to serve his three year prison sentence.
An overview of his case from 2010 is here. Here's a Today Show video where he and his excellent trial lawyer, Dick DeGuerin, discuss the case.
Dick DeGuerin always predicted DeLay would never spend a night in jail. [More...]
(71 comments, 194 words in story) There's More :: Permalink :: Comments