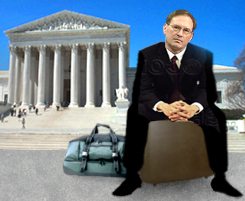 It's too bad we can't send him back to New Jersey.
I can't think of any Supreme Court Justice that TalkLeft argued against more at the time of his nomination. All to no avail. And now, we pay the price. And the price of the losing the 2016 election to the albatross who still wants to hang around our necks (who gave us two more conservative Justices).
Here's a post about Alito's Roe v. Wade comments during his confirmation hearing. And People for the American Way's 155-page report on his Judicial Philosophy written at the time of his confirmation hearings.
This is an open thread, all topics welcome.
(202 comments) Permalink :: Comments
Yesterday, U.S. federal judge in Tampa, Kathryn Kimball Mizelle, appointed by Trump ruled the masks aren't necessary on airlines. Then today:
the Biden administration announced that the Transportation Security Administration will no longer enforce the federal mandate requiring masks in all U.S. airports and on board aircraft.

Effective immediately, masks are optional for all airport employees, crew members and customers inside U.S. airports and on board all aircraft domestically, as well as on most international flights.
Is anyone here canceling airline flights because of it?
Looks like we need a new open thread. Here it is, all topics welcome.
(198 comments) Permalink :: Comments
"I'm Old Not an Idiot" from the New York Times. Does anyone besides me sympathize with this Spanish gentlemen who has launched a successful protest against ageist bank policies like closing branches and forcing people to use smart phones to conduct serious business?
When will we get approval for a 4th dose of the vaccine? I'm ready. Australia and El Salvador approved it today. And the new variant has been detected in Colorado's wastewater.
This is an open thread, all topics welcome.
(201 comments) Permalink :: Comments
A whole week and I've had nothing to write about. I was hoping to read Ghislaine Maxwell's Motion for New Trial based on the chatty juror who disclosed he told the whole jury about his own childhood abuse experiences, after which some changed their position from leaning towards "not guilty" to guilty on the sex trafficking of a minor count. Unfortunately, the motion and exhibits are all filed under seal.
I also don't understand why the media harps on going after the "john does" who had sex with the underage girls, but is willing to give a pass to them as women, when several of them have testified that as girls, they recruited other underage girls for Epstein. Every time their recruitee visited Epstein they got $200.00. Why isn't that p*mping? Especially for the ones who recruited minors after their 18th birthday. I don't doubt the ones who both serviced Epstein and recruited for him worked hard for the money, but why do they get a complete pass, from the media and the prosecutors? [More...]
(205 comments, 273 words in story) There's More :: Permalink :: Comments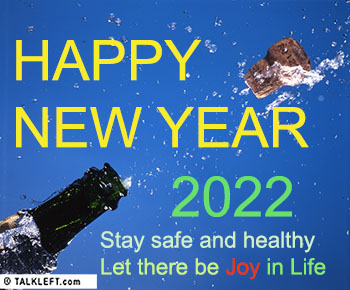 New Year's Eve seems very somber tonight.
In Boulder, the fire has been devastating. Here's a few second video from the West Metro Fire department. Updates are available at the Boulder Office of Emergency Management.
In Europe, the Wall St. Journal has a report on how Antwerp, Belgium has become the "Miami of the 1980s" with respect to money coming in from cocaine. It's a "cash tsunami". (free link). The Mayor says,"Every layer of society is infected."
[More...]
(200 comments, 267 words in story) There's More :: Permalink :: Comments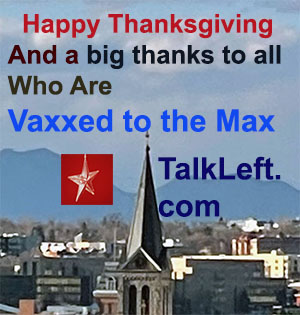 Happy Thanksgiving to all. Personally, I find the media depictions of large and mostly maskless crowds at , at grocery stores, airports and public events concerning. I would have thought by now we all know what comes next - another round of mutating Covid viruses.
Colorado happens to be one of the states with a high number of new COVID cases and increased deaths. [More...]
(14 comments, 489 words in story) There's More :: Permalink :: Comments
I'm sorry for my absence the past few weeks -- it's temporary, to be sure.
We need a new open thread, so here it is, all topics are welcome.
(186 comments) Permalink :: Comments
The number of COVID-19 cases in the U.S. has reached 40 million.
The Taliban has claimed full victory and the right to govern all of Afghanistan. It has not yet officially named the leaders of its new government, but its spokesman says the announcement is imminent.
Pretrial hearings are scheduled to resume this month at Guatanamo for Khalid Sheikh Mohammed and the other detainees accused in the 9/11 attacks.
Rosh Hashanah, the Jewish New Year, began Monday night. If you are cooking for the holiday, the New York Times offers these recipes.
This is an open thread, all topics welcome.
(201 comments) Permalink :: Comments
I am so glad August is almost over. And I'm so sorry to those of you who expected me to be blogging and updating. I honestly couldn't find a time to do it.
But September is around the corner, and my work and court schedule will be back to normal.
The only news I've had time to follow is Afghanistan. What a terrible day the U.S. military had today.
Anyone who believed Trump that ISIS was defeated was as delusional as he was. Also, the Taliban and IS-IK (Isis in Khurasan)are enemies. Different goals, different religious views, and ISIS thinks the Taliban will buddy up with China which wants Afghanistan's rich minerals.
The faster we leave Afghanistan, the better. We never should have been there in the first place. That blame belongs on Bush and Cheney and Rumsfeld.
This is an open thread, all topics welcome.
(200 comments) Permalink :: Comments
I know it seems like I just disappeared from the Internet, and I did, but not intentionally.
I don't think I ever thought much about how court cases would be rescheduled after COVID. Everything was continued for 90 days so many times, and then all of a sudden, after the vaccines were out, the continuances were over and the dates set so long ago are now real dates. Which translates to things like I have three federal sentencings in the first two weeks of August. [More...]
(166 comments, 345 words in story) There's More :: Permalink :: Comments
The United States has now endured 28 million cases of COVID-19 and 500,000 covid-related deaths. And it sure is not over.
I got my second Moderna shot on Saturday. I was a little trepidatious because I had read the second shot carries a more powerful punch. But I felt nothing. Not yesterday afternoon, not last night, not today or tonight.
Maybe I don't have any immune cells to fight off the enemy? Maybe I have lazy immune cells? Maybe it means nothing at all?
Do I feel safer having received my two doses of vaxx? Not really. I'm still staying home almost exclusively, double masking when I go out, and reminding every person I see with a mask that has slid under his nostrils to please put it back up. Yet, masks are no guarantee, they are just better than not wearing masks. But they sure beat the alternative: getting sick and with covid and even though you have no prior risky conditions, for some unknown reason you become a long hauler. [More...]
(208 comments, 555 words in story) There's More :: Permalink :: Comments