At 1:05 pm ET, NBC posted this photo: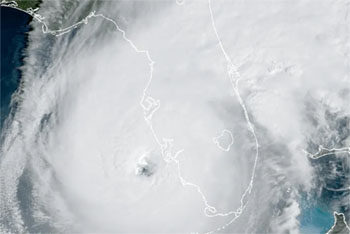 Two hours ago, the National Weather Service had this map: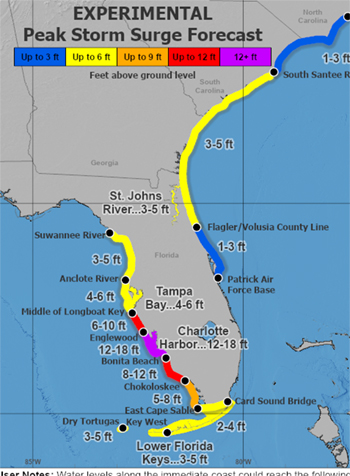 The latest forecast: [More...]
(1 comment, 183 words in story) There's More :: Permalink :: Comments
Tampa and Fort Myers seem to be in the cross-hairs of Hurricane Ian, which is headed their way. According to the 1:00 pm statement by the National Hurricane Center, there is also a Tropical Storm Warning for the upper Florida Keys and a Tropical Storm Watch for the Middle and Lower Florida Keys.
Florida has set up "Know Your Zone" so Floridians know when they should evacuaate their homes. The Zones are from A to L with A being most likely to get an evacuation call and it is unlikely that Zones E or after will be called.
That's only half of it. The website says Floridans must also "know their homes".
If an evacuation order is not issued for your area, you may consider sheltering in place. Not all evacuations zones are always ordered. If you shelter in place, it's important to Know Your Home and its ability to withstand strong winds and heavy rain.[More...]
(46 comments, 358 words in story) There's More :: Permalink :: Comments
There is a lot of hurricane damage in the south. Louisiana got hit hard, and it looks like Arkansas is next.
Bon Jovi just released this new single which he wrote from home, with input from fans during the COVID19 stay at home period. The graphics showing people helping others are moving. I think it would equally apply to the help people can give to hurricane victims.
In other new music: [More...]
(163 comments, 202 words in story) There's More :: Permalink :: Comments