Sarah Palin, the former Governor of Alaska who agreed to be used by John McCain as a Hail Mary pass in his failed bid for the presidency, is on the loose. In New York, no less, where she is a party to a defamation lawsuit against the New York Times. Trial is set to start Feb. 3.
On Saturday night, the UnVaxxed Palin had the gall to eat dinner inside Elios, a well-known New York restaurant on the Upper East Side. You have to show proof of vaccination to eat indoors in Manhattan. But no one at Elios asked her for it. (Restaurateur Elio died in 2016.)
And guess what happens? On Monday she tests positive for COVID. So all the other people who were dining at Elios and the employees are now in jeopardy.
Is she just stupid, or does she really think rules don't apply to her? Some people may just be seriously misinformed about the vaccine and the virus(like Eric Clapton, but with Palin, it just seems like she thinks she can do what she pleases. I hope NYC fines her (and Elios for not asking her to show her ID).
(48 comments) Permalink :: Comments
Ghislaine Maxwell has been found guilty on five of the six counts against her. The only count that she was found not guilty of was enticing the accuser who testified using the name "Jane".
I am really surprised by this verdict. The impeachment evidence was overwhelming in my view.
I will explain why when I get to a computer later tonight. (I am typing this on my iPhone in the grocery store parking lot. Please excuse any typos).
(71 comments) Permalink :: Comments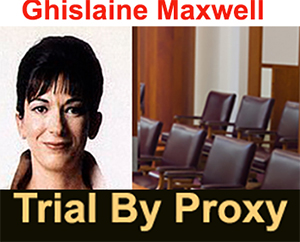 I've got a lot to do today, and every time I look at the news, it seems I'm only interested in reading about Ghislaine (hoping her Denver lawyers Laura and Jeff kill it on cross-examination) and events in Central and South America.
Since I doubt many readers are as interested in these topics as I am, here's an open thread, all topics welcome.
If you do want my thoughts on these topics or other international criminal cases, let me know in comments. I'm pretty fascinated these days by Alex Saab, kidnapped or extradited from Camp Verde (depending on your point of view); the capture of Otoniel in Colombia (the Colombian President says Pablo Escobar was small potatoes by comparison); and the sentencing of Emma Coronel-Aispuro (El Chapo's wife) to 3 years.
What I'm not interested in: school and workplace shootings, missing white girls, the January 6 events at the capital, or anything having to do with Donald Trump. I barely remember him and I have no desire to be reminded.
(201 comments) Permalink :: Comments
Kyle Rittenhouse's chief counsel, Mark Richards, hasn't been known to give interviews about the case. Now that it's over, he has spoken.
It's an enlightening interview about the role of criminal defense attorneys. We don't represent causes, we represent individuals.
I was hired by the two first lawyers. I'm not going to use their names," Richards said Friday. "They wanted to use Kyle for a cause and something that I think was inappropriate – and I don't represent causes. I represent clients"

.....Richards...said that to him, the only thing that mattered was "whether he was found not guilty or not.'"
As for the choice of a defense strategy:
Regardless of what was happening behind the scenes, the strategy from Richards and [co-counsel] Chirafisi in court was clear: get the jury to regard Rittenhouse as a scared teenager who shot to save his life.
[More...]
(161 comments, 279 words in story) There's More :: Permalink :: Comments
We've always known that most non-millionaire Donald Trump supporters are marginalized and under-informed. (Just a nicer term for under-educated and/or stupid). So perhaps it's no surprise that many of those charged in the Capitol riots are now seeking to represent themselves, despite repeated warnings from the Judge that it's a bad idea, and despite being offered the services of court-appointed counsel.
U.S. District Court Judge Royce Lamberth told one such defendant he hadn't seen a successful case of self-representation since he took the bench in 1987. New York Civil Rights Lawyer Ron Kuby says he hasn't seen a successful case of self-representation in his 40 years as a lawyer.
I say this all the time on TalkLeft, but I'll do it one more time: You have the right to remain silent. Use it or lose it. Our jails are filled with people who thought if they could only tell their side of the story, the police (or judge or jury) would see it their way. It rarely happens.
Many of these under-informed defendants think that if they represent themselves, they will be able to put the corrupt "system" on trial. It won't happen. The system is not on trial, you are. Judges, not defendants, decide what is admissible at a trial. Any hint of something that seeks jury nullification won't be permitted in federal court.
(More...)
(8 comments, 384 words in story) There's More :: Permalink :: Comments
I'm obsessed with bodies of water these days. From Drake's Passage that goes between Ushaia, Argentina and the Antarctic, to the amazing waters around Tasmania, just below Australia, I've spent hours looking at pictures and ships and adventure tours.
By contrast, I also love the photo above. It's neither in South America, Australia, Asia nor the Indian Ocean. It's somewhere in Europe. I would love to sit on one of those chairs and do nothing but stare at the ocean. Any guesses?
Have any of you crossed Drake's passage or been to Tasmania? (Not the same as Tanzania in Africa).
This is an open thread, all topics welcome.
(200 comments) Permalink :: Comments
Can anyone explain what it is that Facebook is accused of? Articles like this are ridiculous, not once does it say what they are "targeting children" with or how Instagram is dangerous. On some network later, Monica Lewinsky is going to weigh in, so I take it that bullying is involved.
Why isn't it a parent's responsibility to monitor their child's use of social media and the internet. Some Congressman today said on the radio that we are going to have a generation of afflicted children. Afflicted by what?
And what does artificial intelligencve have to do with it? I heard a news anchor on the radio say that a woman who has a miscarriage will be bombarded by it online for years.
(15 comments, 274 words in story) There's More :: Permalink :: Comments
Thanks to Peter G. for letting me know we need a new open thread. I'll be back over the weekend.
All topics welcome.
(178 comments) Permalink :: Comments
Mazel Tov, Congratulations and Muchas felicidades to Colorado Governor Jared Polis and Colorado First Gentleman Marlon Reis, partners of 18 years. They got married in Boulder on Wednesday.
The greatest lesson we have learned over the past 18 months is that life as we know it can change in an instant. We are thankful for the opportunity to celebrate our life together as a married couple.
[More...]
(8 comments, 391 words in story) There's More :: Permalink :: Comments
Is there anything to watch on TV? I recommend Race Around the World Season 1 and 2 on Discovery +. It is not another Amazing Race, it's miles better and more interesting with unbelievable photography.
Next up is Vicenzo on Netflix, which is half drama and half comedy and just wonderful.
I'm also watching the new season of Make the Cut on Amazon Prime (with Heidi and Tim). If you haven't seen Tehran on Apple TV, it's great and has you on the edge of your seat from beginning to end.
U.S. Network TV continues to get more and more vacuous in my opinion. Cop stories and victim stories. No thank you.
In the good news department, Malverde will be starting soon, Telemundo's "most ambitious adventure". (Although that phrase is as overused as when Chris Harrison would say on the Bachelor, "This is the most dramatic season ever.) Rafael Amaya who played Aurelio in Senor de los Cielos will make his return to TV after more than year. And there's an indication, however slight, there could be a Senor de los Cielos 8. A La Reina del Sur 3 is also in the works.
This is an open thread, all topics welcome.
(215 comments) Permalink :: Comments
Jovenel Moise, the President of Haiti was assassinated in his home last night, around 1:00 a.m. His wife was critically injured and has been flown to Miami for treatment.
The attack was carried out by highly trained professionals, with high-powered weapons. The killers claimed to be with the DEA, carrying out an operation, according to Bocchit Edmond, Haiti's ambassador to the U.S. and Prime Minister Claude Joseph.
Prime Minister Claude Joseph said highly trained assassin, some speaking a mix Spanish or English with a US accent, assassinated the president at his home. The assassins yelled, "DEA operation! Everybody stand down! DEA operation! Everybody back up, stand down!"
Reuters confirms the statements by Edmond and Joseph:
Edmond told Reuters in an interview the gunmen were masquerading as U.S. Drug Enforcement Administration (DEA) agents as they entered Moise's guarded residence under cover of nightfall - a move that would likely have helped them gain entry.
According to La Nouvellist, a major newspaper in Haiti, the Deputy Justice of the Peace has released an official report. It says Moises' body was riddled with bullets. Also, his daughter was home at the time and hid. [More....]
(4 comments, 662 words in story) There's More :: Permalink :: Comments
Original Post Friday: Derek Chauvin will be sentenced today for the murder of George Floyd.
He could get life plus cancer and the public would say it's not enough.
Attorney Ben Crump will be on hand afterwards to give a press conference. He's beome as ubiquitous as Gloria Allred was a decade ago. Not my cup of tea.
Update: He got 22.5 years. His motion for a new trial was denied just before sentencing. The Judge issued a 20 plus page opinion explaining his sentence. You can read it here. Basically, it seems his guideline sentence was 11-12 years, and the judge said he had discretion to impose an upward variance, and because of the aggravating factors in the case, including Chauvin's extreme cruelty to George Floyd, he decided to do that. From the Washington Post: [More...]
(14 comments, 248 words in story) There's More :: Permalink :: Comments