Tag: torture (page 2)
(This was the very first diary I ever posted on the internet, way back in June 2007, and some of it is dated, but since Dick Cheney has been all over TV recently urging President Obama to stop "dithering" and "do what it takes to win" in Afghanistan, I decided it was worth reposting.)
If you're a liberal, you can say that George Bush isn't very smart, and Dick Cheney isn't very nice, and that's about the end of it. A million liberal blogs and columns grind away at synonyms for "not nice" and "not smart" year after year, but the Republicans still control 49 seats in the Senate, and Fox News still has a license to broadcast.
Bush-Cheney chained up a 78 year-old Afghan man in a fetal position at Guantanamo for more than 24 hours, while he pissed and shat all over himself. The New York Times and the Washington Post are still a little fuzzy about what to call this procedure, and the rest of the media is even more obtuse. When John McCain sponsored a very weak bill to restrict this method of "interrogation," Dick Cheney ran through every office in the Capitol trying to defeat it, and he succeeded. The same sort of thing is happening at this very moment in a secret CIA prison somewhere, and if you don't know what to call it, I can tell you.
It's torture, Stupid!
(4 comments, 802 words in story) There's More :: Permalink :: Comments
About those doctors who attended the CIA interrogation sessions at which enhanced technigues, aka torture, were used:
Physicians for Human Rights (PHR), a non-profit group that has investigated the role of medical personnel in alleged incidents of torture at Guantánamo, Abu Ghraib, Bagram and other US detention sites, accuses doctors of being far more involved than hitherto understood.

....The most incendiary accusation of PHR's latest report, Aiding Torture, is that doctors actively monitored the CIA's interrogation techniques with a view to determining their effectiveness, using detainees as human subjects without their consent. The report concludes that such data-gathering was "a practice that approaches unlawful experimentation".
The report cites the recently released 2004 CIA Inspector General's report. [More...]
(8 comments, 346 words in story) There's More :: Permalink :: Comments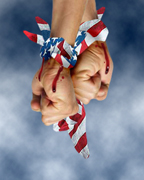 Dick Cheney continues to insist the CIA interrogators should neither be investigated nor prosecuted. He continues to praise their work.
"The people involved deserve our gratitude. They do not deserve to be the targets of political investigations or prosecutions," he said in a statement dated Monday.
[More...]
(36 comments, 177 words in story) There's More :: Permalink :: Comments
As a follow-up yesterday's post on the Newsweek article suggesting Attorney General Eric Holder may conduct an investigation of Bush torture policies, I'd like to point you to Glenn Greenwald today. He points out that the sources floating this trial balloon also indicate:
[T]he investigation will only target "rogue" CIA interrogators who exceeded the limits of what John Yoo authorized, and would not include high-level policy makers who authorized the torture tactics and implemented America's torture regime.
In other words, as Greenwald writes, it would be Abu Ghraib redux. Tim F. at Balloon Juice makes a similar point.
(15 comments) Permalink :: Comments
Newsweek has a long feature article on Attorney General Eric Holder.
Four knowledgeable sources tell NEWSWEEK that he is now leaning toward appointing a prosecutor to investigate the Bush administration's brutal interrogation practices, something the president has been reluctant to do. While no final decision has been made, an announcement could come in a matter of weeks, say these sources, who decline to be identified discussing a sensitive law-enforcement matter.
[More...]
(35 comments, 365 words in story) There's More :: Permalink :: Comments
Navanethem Pillay, a lawyer from South Africa who serves as the U.N.'s top Human Rights offical, criticized President Obama and the U.S. today over the continued detention of Guantanamo detainees:
In her most detailed statement on U.S. detention policy, the South African lawyer criticized President Obama's decision to hold some suspected terrorists in detention indefinitely without a trial. She also called for a probe into officials who participated in torture sessions or provided the legal justification for it.

"People who order or inflict torture cannot be exonerated, and the roles of certain lawyers, as well as doctors who have attended torture sessions, should also be scrutinized," Pillay, the U.N. high commissioner for human rights, said in a statement dedicated to victims of torture.

[More...]
(10 comments, 323 words in story) There's More :: Permalink :: Comments
Retired Major Gen. Antonio Taguba (remember the Taguda report on Abu Ghraib?) told the British press he agrees with President Obama that the photos of Iraqi detainees should not be released:
A former U.S. general said graphic images of rape and torture are among the photos of Iraqi prisoner abuse that President Barack Obama's administration does not want released.

"I am not sure what purpose their release would serve other than a legal one and the consequence would be to imperil our troops, the only protectors of our foreign policy, when we most need them," Taguba was quoted by the Daily Telegraph. "The mere description of these pictures is horrendous enough, take my word for it."
The Telegraph article is here. Among the graphic images: [More...]
(87 comments, 209 words in story) There's More :: Permalink :: Comments
Via Raw Story, a liberal activist group has filed complaints with the state bars in the District of Columbia, New York, California, Texas and Pennsylvania, seeking disbarment of 12 lawyers who served in Bush Administration and were involved in defending torture policies. The lawyers are:
[F]ormer White House Legal Counsel attorneys John Yoo, Jay Bybee and Stephen Bradbury; former Attorney Generals Alberto Gonzales, John Ashcroft and Michael Mukasey; former Homeland Security Secretary Michael Chertoff; former chief of staff to Vice President Dick Cheney David Addington, Alice Fisher, William Haynes II, Douglas Feith and Timothy Flanigan
The complaints are available at DisbarTortureLawyers.
(31 comments) Permalink :: Comments