Tag: Wrongful Convictions (page 2)
Joseph Abbitt, age 49, was sentenced to two life terms for murder and rape. He served 14 years.
Today, he leaves prison a free man, as DNA saved by the Winston-Salem police department but only re-tested recently, has proven he was not the culprit.
A joint motion to vacate the convictions against Abbitt filed by the Forsyth County District Attorney's Office and the N.C. Center on Actual Innocence is scheduled to be heard at noon today by Judge A. Moses Massey in Forsyth Superior Court.
[More...]
(3 comments, 189 words in story) There's More :: Permalink :: Comments
We've previously written about Cameron Todd Willingham who was executed in Texas in 2004 for an arson/murder. Evidence was mounting that the fire was not arson, but accidental. See here, here, and here.
Steve Mills of the Chicago Tribune reports today that the forensic report requested by the Texas Forensic Science Commission, which is charged with investigating allegations of forensic error and misconduct, concludes the fire in the Willingham case was accidentally set.
In a withering critique, a nationally known fire scientist has told a state commission on forensics that Texas fire investigators had no basis to rule a deadly house fire was an arson -- a finding that led to the murder conviction and execution of Cameron Todd Willingham.

The finding comes in the first state-sanctioned review of an execution in Texas, home to the country's busiest death chamber. If the commission reaches the same conclusion, it could lead to the first-ever declaration by an official state body that an inmate was wrongly executed.
[More...]
(29 comments, 571 words in story) There's More :: Permalink :: Comments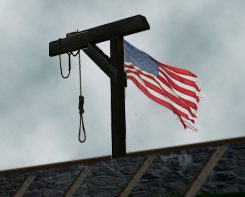 Via Left in Alabama, Justice Scalia had this to say about the Troy Davis case, in which he dissented from the majority which ordered Davis get a hearing on his innocence claim. Davis, you may know, has had one of the the most compelling claims of innocence in decades. According to Justice Scalia:
This Court has never held that the Constitution forbids the execution of a convicted defendant who has had a full and fair trial but is later able to convince a habeas court that he is "actually" innocent. Quite to the contrary, we have repeatedly left that question unresolved, while expressing considerable doubt that any claim based on alleged "actual innocence" is constitutionally cognizable.
Left in Alabama responds:[More...]
(29 comments, 2202 words in story) There's More :: Permalink :: Comments
The 5th Circuit Court of Appeals affirmed an award of $14 million to former death row inmate John Thompson for prosecutorial misconduct. The court was evenly divided, which means the lower court's verdict is affirmed.
Judge Edward Prado, who wrote the court's order to uphold the $14 million verdict, said that the appellate court must give deference to the jury's verdict. He added that the Thompson verdict will not subject other cities to "widespread liability" because it is such an extraordinary case.

"The dissent is merely quibbling with the jury's factual findings," wrote Prado. "This oversteps our bounds as an appellate court. The dissent presents nothing more than a skewed version of the facts in favor of the District Attorney's Office...these factual disputes were for the jury to resolve."
Here's what caused the verdict. [More...]
(3 comments, 294 words in story) There's More :: Permalink :: Comments
Ernest Sonnier served 23 years of a life sentence for rape. Yesterday, he was released from prison after DNA testing and his lawyers from the Innocence Project established his innocence.
Over the last 18 months, genetic testing of evidence found on the victim's clothing and at the scene of the attack had yielded no trace of Mr. Sonnier, the Harris County district attorney's office said. Instead, it has implicated two other men. Both are felons and known associates. One is awaiting trial for a different rape.
Prosecutors are not conceding Sonnier's innocence, "though prosecutors acknowledge that the new DNA tests cast strong doubt on the conviction." Now they want to do more investigation. Why didn't they do it when the claims of innocence were first raised?
Texas leads the nation in exonerations of the wrongfully convicted: [More...]
(6 comments, 236 words in story) There's More :: Permalink :: Comments
New York's top judge, Jonathan Lippman (chief judge of the NY Court of Appeals) has announced the creation of a permanent task force to study wrongful convictions and how to minimize their occurrence. The plan is receiving wide praise.
Members of the task force, who are being selected by Judge Lippman, will include prosecutors, defense lawyers, scientists and lawmakers. They will have a broad mandate to examine police procedures, court rules and other issues involved in wrongful convictions.

"We're going to take the raw material from all the cases here in New York and, for that matter, around the country, and see what we need to do to change the criminal justice system so this doesn't happen," Judge Lippman said in an interview on Wednesday.
This is something that Innocence Project co-founders Barry Scheck and Peter Neufeld called for in their 2002 book, Actual Innocence, and in detail here.[More...]
(784 words in story) There's More :: Permalink :: Comments
The Supreme Court accepted cert today in Pottawattamie County v. McGhee, 08-1065, an Iowa case in which two men wrongfully convicted of murder sued the prosecutors. Curtis W. McGhee Jr., and Terry Harrington served 25 years of a life sentence for killing a retired police officer before being freed when it turned out prosecutors had withheld evidence about another suspect and presented false testimony from witnesses.
[Prosecutors]Richter and Hrvol argued that they were immune from lawsuits because they were acting within the scope of their job. Federal courts, however, rejected their motions to dismiss the lawsuits, saying the immunity did not extend to them.
The lower courts found immunity on the withholding evidence claim but said the prosecutors can be sued for procuring false testimony during the investigation and using it against the defendants at trial. Scotus Blog has the pleadings in the case.
(10 comments) Permalink :: Comments
Olmedo Hildago was one of two men wrongfully convicted in the notorious Palladium night club murder of a bouncer in New York. He served 14 years in prison. There were years of twists and turns and much resistance by DA Morganthau's office before his vindication.
The New York Times reports New York City and State have settled lawsuits with Hildago, who now lives in the Dominican Republic, for $2.6 million.[Hat tip to Blogger Mike.]
The lawsuits of the second defendant, David Lemus, who was retried and acquitted in 1997, are still pending.
The two men had some help establishing their innocence, from unlikely sources: A former prosecutor, a former detective and the jury forewoman.
(1 comment) Permalink :: Comments
The Supreme Court heard oral arguments today in the William Osborne case. Osborne was convicted of rape in Alaska and alleges new DNA technology would prove he is factually innocent.
Alaska is one of several states that refuses to allow inmates to obtain DNA testing to prove innocence.
The Obama administration has taken Alaska's side in arguing that Osborne has no right to access the biological evidence obtained in 1994, even if he pays for it. Today's advanced tests could establish a match with a certainty of one in a billion. Former FBI Director William Sessions explains why Obama is wrong on this one. [More...]
(16 comments, 328 words in story) There's More :: Permalink :: Comments
Johnnie Earl Lindsey, age 56, became the 20th Dallas, TX inmate to be cleared by DNA testing and today was freed from prison.
Lindsay served 25 years in prison for a rape he didn't commit. His letters over the years requesting DNA testing were ignored.
Then District Attorney Craig Watkins was elected.
Lindsey, his lawyers and the judge repeatedly praised Dallas County District Attorney Craig Watkins, who since taking office in January 2007 has examined wrongful convictions and not opposed attempts by prisoners seeking DNA testing. Mitchell said the job of a prosecutor is "not to convict but to see justice is done. We're fortunate to have a district attorney with the courage, dignity and honor to fulfill this duty."
Lindsey was at work when the crime was committed. At his trial, he produced his time cards and his employer testified for him. How did he get convicted? Erroneous eye-witness identification and faulty police lineup procedures. [More...]
(8 comments, 501 words in story) There's More :: Permalink :: Comments
For the seocnd time in three months, a case was dropped in LA due to false tesimony by a police officer. The latest, dismissed yesterday, involved a detective. Saul Edy, the defendnat, spent three years in jail.
Det. David Friedrich, with Los Angeles Police Department radio recordings that contradicted Friedrich's account of a stakeout.
The proseuctor's explanation:
I believe this officer did the best he could, but unfortunately mistakes were made and we lacked confidence in the persuasiveness of our case," Yglecias said. "We still have a belief in Eady's guilt, which made for an agonizing decision."
The defense lawyer's explanation: [More...]
(3 comments, 265 words in story) There's More :: Permalink :: Comments
This is really big news. For the first time in U.S. history, a state commission will investigate whether an innocent man was executed.
A Texas panel will investigate whether a man executed for setting a fire that killed his three daughters actually started the blaze.

The Texas Forensic Science Commission agreed Friday to review conclusions that Cameron Todd Willingham set the fire in 1991. He was executed in 2004.... The Innocence Project, a legal group that works to overturn wrongful convictions, says experts in a report it commissioned concluded the fire was not intentionally set.
You can read JR's diary about it on Daily Kos . One of the experts who co-authored the Innocence Project report is his father, John Lentini, who has written extensively on fire science and errors made during investigations.
The executed inmate was Cameron Todd Willingham #999041. Read the results of a 2004 exhaustive investigation into the case by award-winning Chicago Tribune investigative reporters Maurice Possley and Steve Mills. [More...]
(29 comments, 366 words in story) There's More :: Permalink :: Comments