Tag: Najibullah Zazi (page 3)
Denver CBS reporter Rick Sallinger, who usually has good information and sources, just reported on TV that Najibullah Zazi's terror case may be moved to New York, while his father's false statements case would remain here.
If that's true, I'd expect new charges to be filed against Zazi since venue isn't proper in New York on the false statements charges. (He made the statements in Colorado.)
Zazi undoubtedly will not be happy to trade the FDC in Englewood, CO for MCC Manhattan or MDC Brooklyn. But it makes sense for the Government to prosecute this "plot" as a single case in a single jurisdiction. And it makes even more sense for the Government to do it now. [More...]
(9 comments, 389 words in story) There's More :: Permalink :: Comments
Mohammed Zazi, father of Najibullah Zazi, is now represented by the Federal Defender's office in Colorado. Colorado has excellent federal defenders and he will get quality representation.
What about Najibullah? He told the court today he wanted to stay with Arthur Folsom, the lawyer he met for the first time on Tuesday of last week, who took him to the FBI office on Wednesday, had him waive his right to remain silent, provide fingerprint, DNA and handwriting samples and for the next three days released personal details about his client's life and activities to the media. Folsom and the PR rep he (presumably) hired didn't stop talking until Saturday, when things went south. As a result of the chain of events Folsom set in motion, Zazi, his father and a third man in New York are now charged with making false statements to federal officials, an offense that carries up to 8 years in prison. And the feds have a wealth of information about Zazi, his family and a lot of other people it would have taken them months or years, if ever, to gather. [More...]
(13 comments, 942 words in story) There's More :: Permalink :: Comments
Update: 2:00 pm:
Mohammed Zazi is ordered released on bond, he will be on home detention and can go home as soon as it's installed in the house (could take a few days.) The Government did not seek to detain him. A detention hearing is set for Thursday at 9:00 a.m. for Najibullah Zazi. He will remain in custody until then. His lawyer Arthur Folsom will continue to represent him.
Bump and Update 1:30 pm MT: The Government has filed notices in both the cases of Najibullah Zazi his father Mohammed Zazi that it will be introducing and/or using evidence obtained from FISA electronic surveillance and searches. The notices read:
.... the United States intends to offer into evidence, or otherwise use or disclose in any proceedings in the above-captioned matter, information obtained and derived from electronic surveillance and physical search conducted pursuant to the Foreign Intelligence Surveillance Act of 1978 ("FISA"), as amended, 50 U.S.C. §§ 1801-1812 and 1821-1829.
Their initial appearances in court were at 1:30 p.m. Zazi's lawyer, Arthur Folsom, arrived at 9:45 a.m. (I ran into him in the clerk's office, he was getting a "green card" that allows lawyers to bring phones with cameras into the building.)
Mohammed Zazi has asked to have the public defender appointed for him. [More...]
(14 comments, 528 words in story) There's More :: Permalink :: Comments
The U.S. Attorney's Office for the District of Colorado has released the arrest warrants and complaints for Najibullah Zazi, his father Mohammed Zazi and a third individual, Ahmad Wais Afzali, charged in the Eastern District of New York, along with a press release. They are charged with making false statements related to international or domestic terrorism, which carries a maximum penalty of 8 years. (See 18 USC 1001 (a)(2). Here are the documents:
Interestingly, the Afzali complaint has more details about Najibullah than the Najibullah complaint. The Afzali complaint says that Najibullah had a proffer agreement with the feds for his interviews. And, it says Najibullah told the feds he took courses at an al-Qaida training facility in Pakistan and received instruction from al-Qaida operatives in weapons and explosives. [More...]
(3 comments, 535 words in story) There's More :: Permalink :: Comments
Update 9:45 pm:
The FBI has
descended on Najibullah Zazi's apartment
.
At 9:30 p.m. 15-20 law enforcement cars swarmed into the parking lot of Zazi's Aurora apartment near E. Smokey hill road and E-470.
Both Zazi and his father have been arrested and taken away in handcuffs. The third individual is not Naiz Khan, as I thought, but Ahmad Wais Afzali of Flushing. The charges, as the New York Times and NBC reported earlier, are making false statements to investigators. If only they had exercised their right to remain silent.
The Zazis should get a bond hearing set Monday. No word yet on who will represent Mohamed Zazi. Will the Government move to detain them without bond? I assume so, but there's no presumption of detention for the crime of making false statements to federal officials. The Government will have to show a serious risk they would flee, attempt to obstruct justice, or threaten, intimidate or injure a prospective witness or juror.
Given how they volunteered for interviews and stayed at home tonight even knowing they would be arrested, I don't think they are a risk of flight. I hope they get bond. (Update: The warrants says the Government will seek to detain Zazi but not his father. '[More...]
(1 comment, 686 words in story) There's More :: Permalink :: Comments
Najibullah Zazi and his attorney "abruptly broke off talks with FBI agents this morning."
"Mr. Zazi and Mr. Folsom will not be meeting with the FBI today," Folsom's spokeswoman Wendy Aiello told The Denver Post Saturday morning. She said they've decided that it is in his best interest given the progress of negotiations so far, Aiello said.
Zazi did give a phone interview to the Denver Post this morning in which he denied the media accounts which say he confessed to anything: [More...]
(5 comments, 960 words in story) There's More :: Permalink :: Comments
Najibullah Zazi will return for more questioning by the FBI today. Late Friday night, Zazi's attorney again spoke to the media:
But Zazi's attorney, Art Folsom, told 9New late Friday that "no, he did not admit to having ties to al-Qaeda" and "no, he did not admit to going to a terrorist training camp" or admit to playing a key role in a plot.

"Some of the information in the news report was not true," he said. He told 9News he would "clarify many things tomorrow." Folsom said there have been no plea negotiations.
Stay tuned.
(189 words in story) There's More :: Permalink :: Comments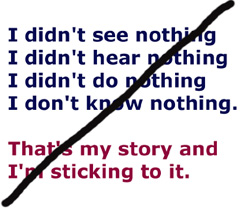 Update to our last post on unanimous media reports that Najibullah Zazi has admitted being involved in terror-related activities (which his lawyer, who is now issuing statements through a public relations firm, is still denying): The Denver Post reports Zazi left the Federal Building at 5:30 p.m. and is due back tomorrow for a fourth day of questioning. [Update: He was allowed to go home.]
Sounds like the interview that began in an attempt for Zazi to convince the feds he happened to be in the wrong place at the wrong time has turned into a proffer session where he's trying to get the best deal in exchange for his cooperation. His PR spokesperson says no deal is on the table, but won't rule one out, which tells me he still has a way to go to earn it.
Repeat after me: The jails are filled with people who thought if they could only tell their side of the story, the cops would see it their way. The 5th Amendment and Miranda rights are there for good reason. Use them or lose them.
(11 comments, 373 words in story) There's More :: Permalink :: Comments
Update: Zazi's father was allowed to go home after three hours of questioning. At 4:45 pm, Najibullah Zazi is still there.
ABC News is reporting:
The Aurora man under FBI investigation for alleged ties to a New York bomb plot, has admitted he has ties to al-Qaida and is in negotiations to plead guilty to a terror charge, a senior law enforcement official told ABC News. The official said Zazi had received explosives training and his possible guilty plea would be part of a deal to cooperate with the government.
The report says Zazi made the admissions this morning. The NY Daily News has a similar account. [More..]
(17 comments, 564 words in story) There's More :: Permalink :: Comments
Update: CBS' Rick Salinger reports at 11:30 pm Thursday, the questioning ended for the day and Zazi will return Friday for more questioning.
****
Najibullah Zazi, the 24 year old person of interest in a federal terror investigation that is linked to last week's apartment searches in Queens, NY, began his second day of voluntary interrogation at 2:00 pm Thursday at the FBI office in Denver. As of 11:00 p.m., he was still there. I presume he is completely innocent of terror activities. But I question whether his voluntary cooperation will prove beneficial to him in the long run -- legally and otherwise.
CBS News today reported that Zazi filed bankruptcy in March, 2009 in the Eastern District of New York. The order of discharge was entered last month. Zazi's debts consisted of $52,000., all stemming from credit cards. At least 15 of the 20 credit card accounts were opened in a four month period in 2008. [More...]
(12 comments, 926 words in story) There's More :: Permalink :: Comments