Tag: Iran (page 2)
Way back in May 2005, less than a month before Mahmoud Ahmadinejad was elected President of Iran, the
barking idiot
Condoleeza Rice was prancing around the Middle East and threatening Iran with the sort of
"major changes"
which the United States had already inflicted on Afghanistan and Iraq.
"The Iranians should not consider themselves immune from the major changes that are going on in the region, and we would hope that they would begin to engage in more stabilizing behavior," said Rice, speaking after a meeting with Kuwaiti's foreign minister, Sheikh Mohammed al-Sabah.
Iranians voters, who were about to choose between the violently anti-American Mahmoud Ahmadinejad, the much more conciliatory Mohammad Khatami, and the centrist Ali Akbar Hashemi Rafsanjani, immediately understood that Condoleeza Rice was sending them a message!
"Elect that hard-liner Ahmadinejad and the biggest bully on the block will open a can of whip-ass on your sorry Islamic butts!"
(392 words in story) There's More :: Permalink :: Comments
Cell phone service around Tehran is currently down. Clashes have erupted.
According to Peiknet (and a translation I received by e-mail),
Telephone communication between Tehran and the rest of Iran has been completely disconnected. This corresponds with the beginnings of the arrests of the opposition. It is suspected that this is being orchestrated by the son of Mojtaba Khamenei son of The Supreme Leader, Ali.
CliffLyon at Daily Kos is following the breaking developments.
(3 comments) Permalink :: Comments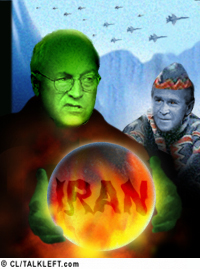 I see while I was out today President Bush made the statement:
If Iran had a nuclear weapon, it'd be a dangerous threat to world peace," Bush said. "So I told people that if you're interested in avoiding World War III, it seems like you ought to be interested" in ensuring Iran not gain the capacity to develop such weapons. "I take the threat of Iran with a nuclear weapon very seriously," he said.
In the mail today, I received an unsolicited advance copy of the book released Tuesday, Deception: Pakistan, the United States and the Secret Trade in Nuclear Weapons by Adrian Levy and Catherine Scott-Clark.
From the inside jacket:
(20 comments, 511 words in story) There's More :: Permalink :: Comments
(Guest Post by Former U.S. Ambassador Joseph Wilson)
On Iran, Hillary has been right in her strong criticism of Bush
I was pleased to see that last Monday Hillary joined Senator Jim Webb in co-sponsoring a bill that would prohibit the use of funds for military action in Iran without specific authorization from Congress. Last week, Hillary voted to support a non-binding resolution that designates the Iranian Revolutionary Guard as a terrorist organization. As a former diplomat, I have had considerable experience in the use of such resolutions to bring pressure – diplomatic pressure – to bear on a regime to rein in rogue elements. And make no mistake about it, the Guards are not only in operational control of Iran's policy toward Iraq and Afghanistan, where Iranian supplied munitions are costing American lives; they are agents of reaction and repression inside Iran. While it is a fact that the Bush administration's duplicity should give all Americans pause, we cannot afford to lose sight of the fact that we have real enemies in the world, and that we must be prepared to exercise the appropriate levers of power in support of our interests.
Both Hillary and Jim Webb correctly worry that the administration is considering a preemptive military strike against Iran. That is why Hillary continues to confront the Bush-Cheney White House and to challenge the legitimacy of any attack against Iran without prior Congressional approval.
More...
(18 comments, 447 words in story) There's More :: Permalink :: Comments
Raw Story reports that Hillary Clinton gave a speech at an event by the pro-Israel lobbying group AIPAC Friday night in which she refused to rule out using miltary force with Iran.
Clinton told some 1,700 AIPAC supporters that the US must take any step to prevent Iran from acquiring nuclear weapons.

"U.S. policy must be clear and unequivocal: We cannot, we should not, we must not permit Iran to build or acquire nuclear weapons," she said. "In dealing with this threat ... no option can be taken off the table."

"To deny the Holocaust places Iran's leadership in company with the most despicable bigots and historical revisionists," she added. Clinton excoriated the Iranian administration's "pro-terrorist, anti-American, anti-Israeli rhetoric."

"We need to use every tool at our disposal, including diplomatic and economic in addition to the threat and use of military force," she added.
More...
(12 comments, 369 words in story) There's More :: Permalink :: Comments