Tag: Iowa 08 (page 2)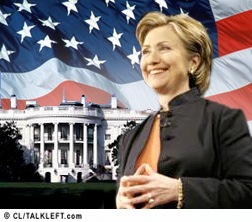 Hillary and Bill are still staying at the same hotel as me and Jane. While we were out at dinner last night, they were here -- they did photos with the New Year's revelers and use the main entrance (not the kitchen as Bill did in '99)
Here's a tidbit of trivia for you: Secret Service regulations say the President can't stay higher than the level to which the fire department's tallest hook and ladder reaches. At our hotel it reaches to the 10th floor. So the presidential suite is lower than the top floor of the hotel.
Hillary's staffers are doing a karaoke tonight at a sports bar connected to a bowling alley. I'm told it's the best bowling alley in town. The press is invited.
Most of the Democratic candidates are out of Des Moines doing their final rounds but will back here by Thursday and the parties are all in Des Moines Thursday night.
(7 comments) Permalink :: Comments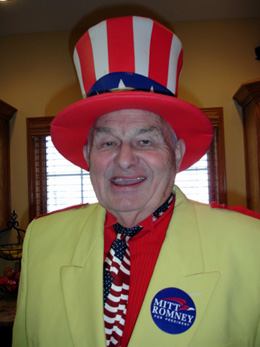 Today's afternoon delight was a Mitt Romney house party at the home of Ann Warren and family. It was in a suburban neighborhood where the houses are all white or beige and look almost identical.
Jane and I were among the first to arrive, well before any other media. Ann welcomed us in and didn't seem to mind we were bloggers.
After chatting with Oscar Poale, above, a former minister who now owns a Georgia Bar-B-Q place and shows up at a lot of Romney events, I began talking to Rich, who lives a few doors down from the Warrens.
More...
(9 comments, 755 words in story) There's More :: Permalink :: Comments
Running counter to every other recently released poll, the DMR Poll not only has Obama holding his lead but widening it:
Obama was the choice of 32 percent of likely Democratic caucusgoers, up from 28 percent in the Register's last poll in late November, while Clinton, a New York senator, held steady at 25 percent and Edwards, a former North Carolina senator, was virtually unchanged at 24 percent.
Remember, the DMR Poll nailed the order of the 2004 Iowa Caucus and is easily the most respected Iowa poll. Obama will now be the odds on favorite to win the Iowa Caucuses.
(Speaking for me only) If the DMR poll is accurate, I predict that not only will Obama win Iowa, he will win the nomination.
(38 comments, 366 words in story) There's More :: Permalink :: Comments
It's beyond cold here -- and I say that as someone who's used to the cold. The wind is very strong and there's humidity making for the kind of cold that chills you to the bone.
It's 7 degrees out with a wind chill factor of minus 15 to 25. It will not get out of the single digits tomorrow. By Wednesday, the temperature will climb a bit and by caucus day, while it will still be cold, it's not expected to deter people from coming out since snow is not expected.
Where were your candidates tonight? Joe Biden was on the local news extolling his family members including his 90 year old mother, who are here with him in Iowa. His wife, daughter, two sons who are attorneys (one is AG of Delaware) have been coming out every weekend to campaign for him. He still thinks the race is wide open. Since he doesn't have a real shot of winning, it makes me wonder what he's really running for. I'd guess Secretary of State.
John Edwards is spending the evening with family.
Last night, Hillary and Bill stayed at the hotel that Jane and I are staying. I assume they are still here but I haven't seen them. It's not a big hotel. At 9:45 pm, everyone's invited to a Hillary event at 4th & Locust. Jane says it's an outdoor concert with Big Head Todd and the Monsters. Outdoor? I don't think so. But in case there's also an inside party, we may head down there just before midnight. Bill and Hillary will both be there.
More...
(8 comments, 507 words in story) There's More :: Permalink :: Comments
Jane Hamsher of Firedoglake has already touched down in Iowa. I'll be joining her tomorrow morning. We will reprise our roles from the Scooter Libby trial and bring you latest from Des Moines and the Iowa caucuses. We've got our press credentials and reserved space with internet and electrical outlets (not cheap) at the Iowa Events Center (Polk County Convention Complex) where the "big board" will be posting live election night results after the caucuses end.
You can find our coverage at Firedoglake, here at TalkLeft and at Crooks and Liars.
If you'd like to contribute to our Iowa trip fund, you can help Jane here and me through the links below. Your support, as always, is greatly appreciated -- we couldn't do it without you.
(10 comments) Permalink :: Comments
Iowa remains inscrutable. Big Tent Democrat wrote earlier about the latest Zogby and Mason Dixon polls. McClatchy-MSNBC also released a poll this morning. The poll (pdf)is of 400 likely Democratic caucus goers. The first question asks whom they would vote for if the caucuses were held today.The Answers:
Edwards: 24%
Hillary: 23%
Obama: 22%
Richardson: 12%
Biden: 8%
Dodd: 2%
Only 20% say they might change their mind. On second choices, Edwards is way ahead of Obama and Clinton. Taking the supporters of Richardson, Biden, Dodd and Kucinich collectively, and adding them to the numbers of those already voting for the big three, it looks like this:
Edwards 33%
Obama 26%
Clinton 26%
McClatchy analyzes the poll results:
While the survey shows a virtual statistical tie, it also shows Edwards with some momentum heading into the final days. He's gained 3 percentage points since McClatchy-MSNBC polled Iowa before the holidays, while Clinton lost 4 points and Obama lost 3 points. Also gaining were Richardson and Biden, each picking up 3 points.
More...
(7 comments, 385 words in story) There's More :: Permalink :: Comments
David Yepsen of the Des Moines Register was on Howard Kurtz's Reliable Sources this morning. In defense of the Iowa caucuses, he made this point:
This is the first time that political activists around the country have a chance to have their say about who ought to be president. Media people have had our say. The money people have had their say. Now this is grass roots activists. And that is, to me, one of the things that is defensible about this caucus is that it is not typical voters, it is party activists.

They go out on a cold January night. They stand up. They sit around. They talk politics. And so it really is the core of each party. If you look at the kind of people that go to a precinct caucus, they look an awful lot like the same sort of people you see at the national convention.
There are 3 million people in Iowa's 99 counties, but it's expected that only 200,000 will come out to caucus. So the caucuses may not reflect the preferences of the voters in Iowa -- only the preferences of politically active voters.
Just something else to keep in mind.
Update: The Des Moines Register has this article today on key voters.
(6 comments) Permalink :: Comments
New Hampshire's Concord Monitor has endorsed Hillary Clinton for President. After outlining what she will do in the beginning of her presidential term, it says:
Hillary Clinton's unique combination of smarts, experience and toughness makes her the best choice to win the November election and truly get things done. Before embarking on an agenda of her or his own, the next American president will be forced to undo the damage of the Bush years: ending the war in Iraq, restoring habeas corpus rights, ending the use of torture, healing New Orleans, restoring America's moral authority around the world..... The next president must also take the lead on a serious effort to slow global warming, a rational policy on illegal immigration and a plan to provide health care to all Americans.

Clinton knows what she wants to accomplish. She knows how Washington works. She has forged alliances with unlikely political partners, and she has waged partisan fights on matters of principle. Her years as first lady and as a U.S. senator have put her at the center of key policy and political battles for a decade and a half. She is prepared for the job.
The paper says Obama does inspire, but he's not the best choice. [More...]
(421 words in story) There's More :: Permalink :: Comments
The AP combs census and other government reports on Iowa. Here's what they come up with:
3 million people, 95% of whom are white
86% graduated from high school, 21% from college.
88% of the land in Iowa (55 million square miles) is farms. There are 5 1/2 hogs for every person. In 2006, Iowa led the nation in the production of pork, corn, soybeans and eggs. Iowa's total agricultural exports for 2005 topped $4.02 billion, second in the nation.
Median income is $42,000; 7% of families are below poverty level.
Median age is 38; 15% are over 65.
As to Iowa voters:
There are 45 Democratic delegates and 40 Republicans. The state has 7 electoral votes.
In 2004, George W. Bush got 50 percent of the vote to John Kerry's 49.3 percent
Registered voters: Republican, 574,571; Democratic, 600,572; Undeclared, 737,054
CNN posted these results from the 2004 primaries.
(2 comments) Permalink :: Comments
There will be more than 2,000 credentialed media people in Iowa this coming week. In addition to Big Media, there will be bloggers.
Jane from Firedoglake arrives Sunday, I'll be there on Monday, in time for New Years' Eve. I'll be posting here at TalkLeft and also at Crooks and Liars.
I think it's important to note there are excellent local Iowa blogs that have been following the presidential race all along and which will be great reads for those interested in more in-depth or nuanced reporting than Big Media may decide to provide.
Among those I've found helpful on caucus news and issues and I recommend checking in with:
Among the Big Media blogs, I like:
As I find more, I'll update this post.
(1 comment) Permalink :: Comments
The Rocky Mountain News today begins a three part series on the road to the Iowa Caucuses.
Part One, Slugfest to the Caucuses, examines the Republicans and the rise of Huckabee.
Tomorrow will feature the Democrats, in an article that examines "how a leaked memorandum and a long-forgotten decision raised the stakes for the first contest on the long, long road to the Democratic National Convention in Denver." (Another hint: the article asks "what if" about a forgotten turning point from back in May.)
On Saturday, the final segment of the series tackles the question, Why Iowa?
What did these folks do to get all this power? And what is the power? As we've learned in about 17,000 miles of driving down the back roads to the White House, it's the power to make future presidents beg.
The series is written by ME Sprengelmeyer, who has spent the last eight months in Iowa for the Rocky following the caucuses in Back Roads to the White House.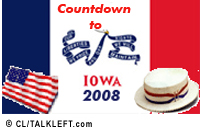 Iowans are about to get two days of relief from political campaigning as the candidates decide to take Monday and Tuesday off.
Here's a look at their last day of stump speeches.
Hillary says she'll help veterans.
Instead of attacking her Democratic rivals, Clinton targeted the Bush administration, which she said has slashed veterans' benefits. She added that she wants to help make up for those mistakes, and said she's already been trying to assist veterans.

"I cannot tell you how many veterans I've had to intervene for, go to bat for, cut the red tape for, who were being denied what was rightfully theirs," she said. "If you are entitled to a benefit, then under our law the president of the United States shouldn't stand in the way, the president should make sure you are given what you have earned and deserve."

Clinton vowed to enact a GI Bill of Rights to expand benefits such as education and housing to service members, veterans and their families.
Barack Obama focused on trade and vowed to protect children from unsafe toys.
John Edwards released a statement responding to Obama's attack's on him: [More...]
(4 comments, 475 words in story) There's More :: Permalink :: Comments