Tag: DEA (page 4)
The D.E.A. exercised its emergency rule making authority today and banned five chemicals used in smokable herbal products it calls fake marijuana. Included are the chemicals in Spice, K-2, Blaze and Red X Dawn.
Except as authorized by law, this action makes possessing and selling these chemicals or the products that contain them illegal in the United States. This emergency action was necessary to prevent an imminent threat to public health and safety.
The ban will be in effect for a year. The DEA says:
They are designated as Schedule I substances, the most restrictive category under the Controlled Substances Act. Schedule I substances are reserved for those substances with a high potential for abuse, no accepted medical use for treatment in the United States and a lack of accepted safety for use of the drug under medical supervision.
The text of the rule, as appears in the Federal Register, is here. [More...]
(13 comments, 342 words in story) There's More :: Permalink :: Comments
Here's the White House statement outlining funds in the budget for the War on Drugs. Is there more prevention, alternative incarceration and re-entry funding? Yes. And we appreciate it.
But, it's still top-heavy on enforcement. While it says the DEA gets $24.8 million less this year, it points out that last year's amount included supplemental funding for the Southwest Border. So it probably isn't a decrease at all. And those African vacations keep on coming. Today the feds indicted 7 in Liberia and Romania as part of a reverse sting by DEA agents. (DEA agents posed as drug sellers.)
The men allegedly "agreed to receive and store multi-ton shipments of Taliban-owned heroin" and "sell multi-kilogram quantities of cocaine to the Taliban," while the two Americans -- identified as Alwar Pouryan and Oded Orbach -- allegedly agreed to sell the missiles, the statement said.
The U.S. Attorney's press release is here. Once again, it sounds like the drugs weren't intended for the U.S., but needing jurisdiction, the DEA talked the men into sending some here, with the promise of huge profits. Why are we flying these men from Liberia and Romania to New York to prosecute them? The cost of the prosecution, defense and their incarceration if convicted will be huge. [More...]
(35 comments, 758 words in story) There's More :: Permalink :: Comments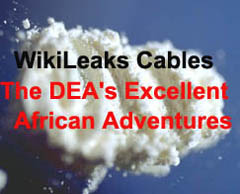 The New York Times examines the Wikileaks cables and the DEA. What it finds: the D.E.A. has been expanding its global reach. It now has 87 offices in 63 countries. One of the things foreign governments love about the agency: its wiretapping capability.
The DEA has emerged from the shadow of the FBI and become much more than a drug agency. Its intelligence capabilities are in great demand, world-wide, but not always for the right reasons. This detailed article on the leaked Wikileaks cables concerning the DEA and war on drugs begins with Central and South America, where some governments want access to its technologies to go after political opponents. [More...]
(9 comments, 859 words in story) There's More :: Permalink :: Comments
A year ago I wrote about the DEA's expensive "African vacation" during which it sent informants and agents to Ghana as part of an elaborate sting operation to intercept cocaine on its way to Europe. It ended up with no cocaine or money, but flew three African men back to the U.S. to face criminal charges. (A year later, the court's docket in U.S. v. Oumar Issa, et. al., SDNY, shows the three are still in custody and the case hasn't even gotten past the discovery phase to the filing of pre-trial motions.)
I'm sure the men's lawyers (some of whom are court-appointed since some of those charged are indigent) will be very interested in Wikileaks' release of embarrassing cables today pertaining to cocaine enforcement operations in Ghana, Mali and elsewhere in West Africa. One set of cables pertains to a longstanding and expensive UK operation called Westbridge, in which the UK teamed up with the Ghana Government. Cables by American diplomats claim corruption in Ghana has ruined the operation. [More...]
(5 comments, 2232 words in story) There's More :: Permalink :: Comments
If this press release wasn't on the DEA's website, I'd think it was a hoax. Incredibly, it celebrates the killing of a suspect.
Justice is done when a suspect is brought before a court and tried, not when he's murdered before his guilt has been determined. Yet, DEA Director Michelle M. Leonhart writes:
"President Calderon of Mexico scored a major victory against the Arturo Beltran-Leyva drug cartel. Last August when DEA, along with our U.S. law enforcement partners, announced the indictment of Mexican drug kingpin Arturo Beltran-Leyva, we were confident that our Mexican counterparts would work with us to pursue him and hold him accountable for his horrific crimes. And last night they did."
Some background: Alleged Mexican cartel leader Arturo Beltran-Leyva was shot and killed by the Mexican military last Wednesday. He was under indictment in the U.S. (available here), As Leonhart writes:
...[W]hen the Mexican Navy closed in on Beltran-Leyva's apartment complex, a sustained firefight ensued and Arturo Beltran-Leyva was killed, along with several of his bodyguards."
As for the future, it looks like we can expect more of the same: Forget the trial, just shoot the perp on sight. Leonhart continues: [More...]
(24 comments, 301 words in story) There's More :: Permalink :: Comments
So, the DEA and its paid informants go to Africa for a sting. (AP here, NY Times here, U.S. Attorney press release here.)
The DEA informants pretend to be from FARC, willing to ship cocaine from South America to Africa where three Africans with claimed al- Qaida ties promise to transport it across the African desert into Spain.
Here's the Complaint (pdf). It doesn't sound like they got any cocaine or there ever was any cocaine, and the deal almost fell apart a few days before the bust.
It wasn't really FARC, just paid DEA informants pretending to be FARC. There never was any drugs, the pretend drugs weren't headed to the U.S. but Europe, yet the three would-be purchasers/transporters are arrested in Ghana and flown to New York for prosecution on terror and narco-terror charges here. [More...]
(11 comments, 747 words in story) There's More :: Permalink :: Comments
Not surprisingly, I don't often get promotional e-mails from the Justice Department and Drug Enforcement Administration. Today I did, with the news that another convention will be taking place in Colorado just before the Democratic National Convention. It's the Law Enforcement Explorers.
Law Enforcement Exploring is a worksite-based program for young men and women who have completed the eighth grade and are 14-20 years old. Law Enforcement Explorer posts around the country help youth to gain insight into a variety of programs that offer hands-on career activities. For young men and women who are interested in careers in the field of law enforcement, Exploring offers experiential learning with lots of fun-filled, hands-on activities that promote the growth and development of adolescent youth.
4,500 teens from all 50 states will be attending the conference. Details of the "fun-filled activities":
The week-long conference will take place on the campus of Colorado State University and will feature several team competitions including arrest and search techniques, crime scene investigation, bomb threat response, and hostage negotiations. Seminars on gang violence, psychological profiling, effective communication, narcotics trafficking and interdiction, and border protection are also planned.
More...
(37 comments, 278 words in story) There's More :: Permalink :: Comments

[Photo from the DEA Gift Shop]
The Drug Enforcement Administration turns 35 this week. Here is a little history :
It was created by executive order of President Richard Nixon and went live on July 1 1973.
At its outset, the DEA had 1,470 Special Agents and a budget of less than $75 million. Furthermore, in 1974, the DEA had 43 foreign offices in 31 countries. Today, the DEA has 5,235 Special Agents, a budget of more than $2.3 billion and 86 foreign offices in 62 countries.
Since 1973, drug arrests have tripled: [more...]
(11 comments, 290 words in story) There's More :: Permalink :: Comments
The DEA is about to hire 200 new special drug agents:
Michele M. Leonhart, DEA Acting Administrator, announced last week that the funding provided in the Consolidated Appropriations Act, 2008 (H.R. 2764), will allow DEA to lift an agency-wide hiring freeze that was instituted in August 2006.

"This is an important and most welcome development," Leonhart said. "With this much-needed funding, DEA will be able to fill 200 Special Agent positions, as well as many vacant Intelligence Analyst and critical support positions. This legislation sends a strong and encouraging message to all of us at DEA as we continue our worldwide drug law enforcement mission."
President Bush signed H.R. 2764 into law on December 26, 2007. It provides funding for fiscal 2008, which began October 1, 2007.
The House vote on the bill is here and the Senate's here.
Both Hillary and Obama voted against the bill, although not for that reason. The DEA funding was but a tiny part.
(2 comments) Permalink :: Comments
This comes as no surprise to me and other criminal defense lawyers representing those charged with drug crimes, but it's good to see it made public.
In an audit published Friday, Justice Department Inspector General Glenn A. Fine examined thousands of seizures between October 2003 and November 2005.

Fine's report states that drug agents rarely counted the cash they took, often didn't provide receipts for seized money, rarely recorded the seizures in agency ledgers and often didn't ask their colleagues to witness their counting and handling of the money.
What this means according to the Inspector General:
The lack of internal controls over the seized cash leads to accusations of theft by the agents, the report states.
What it means in my opinion: Sometimes less money is reported seized than actually is seized. Because of the faulty reporting, and because some may be less than honest about the amount seized, it's very hard to prove.
(10 comments, 233 words in story) There's More :: Permalink :: Comments