Subsections:
Former President George H.W. Bush has died at age 94.
This may be the longest obituary I can recall (I didn't finish reading it) but the Times has probably been working on it for years. It mentions that his son, GW, put out a call for eulogies in 2013. It's also mostly a puff piece.
In the spirit of refraining from negative comments on the occasion of one's death, I have finally thought of something to praise about the former President: He refused to endorse Donald Trump.
Condolences to the Bush family.
(62 comments) Permalink :: Comments
Yesterday John McCain's family announced he would not seek further medical treatment for cancer. Today he passed away.
I will mostly remember him for his ill-advised, ill-fated choice of Sarah Palin as his running mate in 2008. I still shudder to think of the consequences to the country had he been elected and died during his presidency. Somehow the country has sunk to Palin's level anyway with Donald Trump, but that's not McCain's fault.
R.I.P. John McCain.
(76 comments) Permalink :: Comments
Bernie Sanders has come up with a new plan for the government to hire every worker who wants a job at the rate of at least $15 an hour, plus health and retirement benefits.
Sanders's jobs guarantee would fund hundreds of projects throughout the United States aimed at addressing priorities such as infrastructure, care giving, the environment, education and other goals. Under the job guarantee, every American would be entitled to a job under one of these projects or receive job training to be able to do so, according to an early draft of the proposal.

... the projects would hire workers at a minimum salary of $15 an hour with paid family and medical leave, and offer the same retirement, health, and sick and annual leave benefits as other federal employees.
Can such an idea work? It makes me think of the Netflix series Lillyhammer with Steve Van Zandt, about Norway. [More...]
(76 comments, 245 words in story) There's More :: Permalink :: Comments
Former first lady Barbara Bush has died at the age of 92.
The Washington Post obituary is here.
I don't have anything to add to the news. If you do, here's a space to comment in. Please keep in mind that TalkLeft has a policy of not speaking ill of the dead on the occasion of their death.
(11 comments) Permalink :: Comments
Democrats just shot themselves in the foot. After his fellow Congresspersons began calling on Al Franken to resign, Al Franken has done just that. What a loss from a policy perspective.
It reminds me of the old adage, "one cannot serve two masters." I'd much rather have someone in Congress who was going to advocate for legislation that will help me and all Americans, than not have someone there there because of actions in his personal life before he became a member of Congress.
Here are some of the members calling for him to resign, even though he denies the latest allegation of an uninvited kiss, Franken told Politico:
This allegation is categorically not true and the idea that I would claim this as my right as an entertainer is preposterous. I look forward to fully cooperating with the ongoing ethics committee investigation."
Alice in Wonderland time: First the punishment, then the verdict.
If that's the new law of the land, why is Donald Trump still in office?
(117 comments) Permalink :: Comments
Leeann Tweeden, a Los Angeles reporter has issued a statement detailing a pretty disgusting encounter with Al Franken in 2006. Franken was not a Senator at the time. The story ends with a photo of him grabbing her breasts while she's asleep on the military plane home from Afghanistan.
The alleged incident occurred during her 9th ISO Tour to entertain the troops. (Her father was a Vietnam vet and her husband (then her boyfriend) is an Air Force Pilot.
Franken had written some skits for the show and brought props and costumes to go along with them. Like many USO shows before and since, the skits were full of sexual innuendo geared toward a young, male audience.
You can read the rest at the link. [More...]
(185 comments, 189 words in story) There's More :: Permalink :: Comments
A hotel in Switzerland is in the news, but not for a good reason. The Paradies Arosa, an Alpine establishment in Arosa, a city outside Davos, posted this notice a few days ago:
The text of the sign shown in the photo was written in broken English and read: "To our Jewish guests, women, men and children, Please take a shower before you go swimming and although after swimming. If you break the rules, I'm forced to cloes the swimming pool for you."
The hotel removed the sign but defended it and said it was not anti-semitic.
Ruth Thomann, the manager of the hotel, confirmed the signs had now been removed. She insisted that many Jews visit the hotel, particularly at this time of year, and they are very welcome.
(17 comments, 233 words in story) There's More :: Permalink :: Comments
Former MI6 spy Christopher Steele is back home in London, and returning to work.
"I'm really pleased to be back here working again at the Orbis's offices in London today," said Steele.
"I'm now going to be focusing my efforts on supporting the broader interests of our company here. I'd like to say a warm thank you to everyone who sent me kind messages and support over the last few weeks.
About the unsubstantiated Trump dossier he worked on:
"I won't be making any further statements or comments at this time."
(35 comments) Permalink :: Comments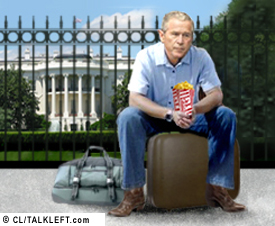 When GW Bush left office, it was "Good Riddance." We might as well have kicked him to the curb and tossed him his clothes through his White House bedroom window.
Who would have believed he's now making the rounds, with humor, and being embraced by Democrats and late night talk show hosts alike? The answer? Anyone with the prescience to know that 2016 would usher in Donald Trump, a man deemed so horrible in all his orange unsplendor by so many, Bush now evokes, if not quite nostalgia, something close. (To be clear, no one's embracing Dick Cheney or Donald Rumsfeld, just GW.)
GW Bush does seem more upbeat and less of a threat these days, but that may be because he seemed more like a puppet doing the bidding of Cheney, Rumsfeld, Rove, Libby and on and on. He was considered incompetent, but not to the extent of Trump. (The only thing I can envision that would be worse than a Trump Presidency would be a Trump-Cheney or Trump-Giuliani Presidency.)
As for Bush, I'm glad to see him happy and painting. I would have been happier if he had picked painting for a career in 2000, when his term as Governor of Texas was up, but at least I can watch him now without reaching for the remote to change the channel, which I doubt I'll ever be able to say about Cheetolini.
(41 comments) Permalink :: Comments
The House Committee on Oversight and Government Reform has requested Mylan CEO Heather Bresch to produce documents and communications about the price increase of Epi Pen.
Mylan today announced it will sell a $300.00 generic version.
Almost every news story has an auto-play video which I won't link to. It's taking more and more time to find articles without video. It is such a waste of time and it really takes a lot of the fun out of blogging.
(45 comments) Permalink :: Comments
First, it was the DNC (Democratic National Committee) whose emails got hacked, possibly by hackers hired by Russia's military intelligence service, the GRU (also known as APT 28 or Fancy Bear) or by lone hackers on their own. Now, the FBI is investigating whether a similar breach at the Democratic Congressional Campaign Committee is related and also the work of Russian hackers.
The FBI is treating the DNC and DCCC breaches as one investigation now, said one person briefed on the matter. At the same time, the bureau is doing a broader probe of Russian hackers targeting political organizations, including the Clinton campaign, the campaign of GOP nominee Donald Trump and Republican political action committees.
I doubt Trump's emails would be very interesting, but I won't be surprised if emails between his campaign staff and his two sons (Donald Jr and Eric) and son-in-law (Jared) are published they turn out to be quite revealing and embarrassing. If that happens, I wonder what Trump's reaction would be then.
(75 comments, 408 words in story) There's More :: Permalink :: Comments
Climate change. The New York Times has this report. On the car radio yesterday, all the nay-saying pundits wanted to do was link it to terrorism. I learned nothing except what a waste of time it is to listen to cable news.
Here's a thread to discuss climate change.
(46 comments) Permalink :: Comments