Home / Lewis Libby Trial Coverage

Subsections:
David Dow, the University Distinguished Professor at the University of Houston Law Center who represented a death penalty defendant in Texas while George Bush was Governor, has some questions for the President in this Houston Chronicle Op-Ed about his commutation of Scooter Libby's sentence and his failure to grant the same to his client, Carl Johnson.
Dow writes,
My client, Carl Johnson, committed the worst crime that can be committed against another human being: He killed someone. And Lewis Libby committed the crime that is most injurious to our criminal justice system: He lied. Unlike my client, Libby, who was convicted by a jury of his peers despite being represented by the best lawyers that money can buy, has never shown any public sign of remorse. Nevertheless, despite all that, President Bush did not exceed his authority in commuting Lewis Libby's prison sentence. The Constitution gives him the power to do what he did. But it is possible for actions to be lawful and simultaneously in conflict with other constitutional principles. Last week's pardon deeply offends the constitutional value of equality, the idea that all citizens stand equal before the law.
More...
(4 comments, 322 words in story) There's More :: Permalink :: Comments
John Colson, writing in the Aspen Times, supports one emerging theory of the Scooter Libby commutation: Bush and Cheney couldn't let a caged Scooter sing:
Cheney, better than anyone, knows what a weak link Libby is. All you have to do is look at the guy to know, without any doubt, that within two weeks of incarceration he would sing like a lark on a bright spring morning. And the notes of his song would not be good for Cheney, Bush or the entire construct of deceit and destruction that the Bush presidency has become.

Libby certainly knows who decided Plame's identity should be leaked to the media. He certainly knows who was in on the discussions leading to that decision. And he undoubtedly knows where the papers are that could prove any assertions of those points, although it's entirely possible that Cheney is smarter than Richard Nixon was and already has shredded, electronically scrubbed and otherwise obliterated all the evidence.
The question then becomes:
(19 comments, 350 words in story) There's More :: Permalink :: Comments
Via Marcy Wheeler at Next Hurrah, Scooter Libby has added another lawyer to his defense team, Greg Poe of Robbins, Russell. Laurence Robbins joined earlier to assist with sentencing and appeal issues.
Marcy thinks Poe has been added to try and get Libby out of serving his two year supervised release term. I suspect she's right, although I would expect him to stay on for the duration of Libby's appeal.
I'm going to switch hats again here, and go from bashing Libby's commutation (for which I blame Bush not Libby) to praising defense lawyers such as Libby's latest addition who in the ordinary course of their practice challenge mandatory minimums and the unfairness of the Sentencing Guidelines.
More...
(12 comments, 1210 words in story) There's More :: Permalink :: Comments
There is a lot of media chatter about Rep. John Conyers' decision to hold hearings next week into the use of the Presidential pardon power, including Bush's commutation of Scooter Libby's sentence. TChris wrote earlier about Tony Snow's uninformed reaction. There's also a lot of chatter and criticism about President Clinton's pardon of Marc Rich.
Since the Rich pardon and the congressional hearings about it occurred several years ago, I decided to do a little research. Here's the transcript of the second Congressional hearing into President Clinton's pardon of Marc Rich.
I think it's significant that President Clinton waived executive privilege for the hearing and allowed his aides who participated in the Rich pardon discussion to testify, no holds barred.
Will Bush do the same next week?
More...
(23 comments, 1585 words in story) There's More :: Permalink :: Comments
I suppose there might be a less compelling argument [in favor of Scooter Libby]than Peretz's out there, but I haven't seen it. I open the floor to nominations.
Here is my nomination:
I feel that [Libby] should not have had to face a perjury trap: the choice between prison for lying, or prison for his role in a set of transactions that the press regards as not merely

O.K.

but sacrosanct. In fact, if journalists had a more reasonable view about this, the reporters whom Mr. Libby tried to peddle this story to would have said, "Look, outing

C.I.A.

agents is bad and we are not going to help you do it anonymously." I bet that today, commuted sentence and all, Mr. Libby wishes they had done just that.
Say huh? Steve, I think I have the winner here.
(22 comments) Permalink :: Comments
Responding to news that Rep. John Conyers has scheduled a hearing on President Bush's commutation of Scooter Libby's prison sentence, Tony Snow asked: "And while he's at it, why doesn't he look at January 20th, 2001?," referring to President Clinton's pardon of Marc Rich. But why, Mr. Snow, should Congress take a second look at the Rich pardon? Do you not recall that the Senate Judiciary Committee held a hearing on the Rich pardon less than a month after it occurred?
If the Rich pardon was worthy of a hearing, what's the objection to giving the Libby commutation similar scrutiny?
Update (7/6/07) (TalkLeft): Lots more on this here and at Think Progress here. Also check out Dan Froomkin today, The Clinton-Did-It Flimflam.
(12 comments) Permalink :: Comments
Scooter Libby paid his $250,000.00 fine today. A "source close to Libby" says he paid it with his personal funds, not with money from his legal fund.
He had no choice but to pay the fine now. On June 22, Judge Reggie Walton had ordered him to pay it immediately. (See page 7 of the Judgment in a Criminal Case. (pdf))
Update: Here's a new Dan Froomkin column. I think he's been providing the most thorough MSM coverage on the commutation.
And Tony Snow has an op-ed on Libby and Bush in USA Today. He still doesn't get it. No one is complaining that Bush grants too many pardons. He's far too stingy with them. The problem is when he does make a clemency decision, it's for one of his cronies.
By the way, getting Bush clemency figures since 2001 is no simple task. They are carefully guarded and don't appear on any government website. The folks at the Rehabilitated Project say they have them and have posted them here.
(5 comments) Permalink :: Comments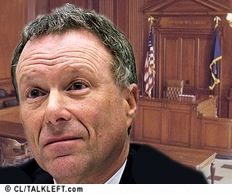 As Judge Walton decides whether his order placing Scooter Libby on supervised release can stand in face of the commutation, I thought a primer on supervised release and on the specific conditions Judge Walton imposed on Libby (court order here, pdf) might be useful.
[Cross-posted at Firedoglake.]
More...
(8 comments, 1258 words in story) There's More :: Permalink :: Comments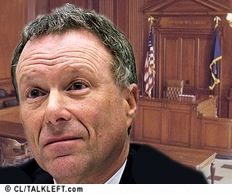 There's a lot of buzz about Judge Walton's order (pdf) asking for briefs on whether Scooter Libby can be placed on supervised release since supervised release follows the service of a prison sentence and Libby didn't serve a prison sentence. [See,Scotus Blog, Sentencing Law and Policy, Big Tent Democrat and don't miss Christy at Firedoglake]
Howard Kieffer, who runs the excellent BOP Watch List-Serv, to which scores of criminal defense lawyers subscribe, has the response printed below.
Shorter version: The day Libby was booked is counted as a day in custody. He served (got credit) for his one day in prison and therefore can be put on two years of supervised release.
More...
(23 comments, 1002 words in story) There's More :: Permalink :: Comments
Even when obligingly regurgitated, the White House can't get its story straight. Compare this:
Pardons are typically reviewed by the Justice Department and sent to the president for a final determination. But a former administration official said that in this case the White House had sent a message of "we're not going through the usual pardon scrub, we're going through this one ourselves."
To this:
Before Mr. Bush spoke at Walter Reed, his press secretary, Tony Snow, fended off an unruly press corps, whose members demanded to know why Mr. Libby had received special treatment. Mr. Snow insisted that he had not, saying the case had been handled in a "routine manner." "The president does not look upon this as granting a favor to anyone," Mr. Snow said, "and to do that is to misconstrue the nature of the deliberations."
There is something ironic in the lying being done to defend releasing a convicted perjurer from his sentence.
(4 comments) Permalink :: Comments
The New York Times reports the Scooter Libby commutation may just set off a debate about sentencing in the country.
I hope so. As outraged as I was Monday afternoon when I first heard the news, my anger just has continued to build.
Tuesday afternoon, I was discussing the commutation on Rachel Maddow's Air America radio show. I could hear my voice, filled with anger, rising in pitch as I spoke.
How did I get here? Just last month, when Libby was sentenced, I, too, thought the lower guideline range of 15 to 21 months would be adopted. I would not have been upset if the Judge had departed from the guidelines and imposed a split sentence of 5 months in prison and 5 months on home detention. I even opined that I thought Libby had met the legal test for an appeal bond.
So where is my outrage coming from? It has little to do with Libby and everything to do with Bush, special treatment and the federal sentencing system that applies to everyone else in America.
More...
(72 comments, 1145 words in story) There's More :: Permalink :: Comments
A two minute AP video clip with Bush's statement defending Scooter Libby's prison sentence commutation and Joe Wilson and Hillary's reaction.
[Click on link, not the picture, then click "play".]