The CBO report on the Republican health care bill that passed the House is in and it is bleak.
A bill to dismantle the Affordable Care Act that narrowly passed the House this month would increase the projected number of people without health insurance by 14 million next year and by 23 million in 2026, the Congressional Budget Office said Wednesday. That 10-year figure is slightly less than originally estimated.
Rather than trying to fix it, the Senate should just kill it.
(13 comments) Permalink :: Comments
Republicans say they have enough votes to pass their nightmare health care bill. No one seems to think the Senate will pass it -- without modifications.
Whatever you do, if you have health care now, don't let it lapse. Millions of people, including children, will be disadvantaged by this bill.
Jimmy Kimmel explains in this powerful and emotional segment describing his new born son's heart surgery last week. [More...]
(33 comments, 263 words in story) There's More :: Permalink :: Comments
In the "you can't make this stuff up" department: By agency fiat (not even legislation)Texas plans on enacting requirements for mandatory cremation or burial of aborted fetuses.
Republican Gov. Greg Abbott ordered state health officials to propose the changes, his office said Thursday, which were quietly put out for public comment this month.

...Texas, however, isn't waiting for lawmakers to pass a bill regarding fetal remains....State agencies in Texas are allowed to adopt some rules on its own without legislative approval.

..."Governor Abbott believes human and fetal remains should not be treated like medical waste, and the proposed rule changes affirms the value and dignity of all life," [Abbott spokeswoman] Matthews said.
How about Texas just secedes from the nation and takes its contradictory death penalty and right to life policies with it?
(8 comments) Permalink :: Comments
This sit-in over gun control is the most childish, embarrassing display by Congress I've seen yet. Some news article said Bernie Sanders showed up but I don't know if its true because I refused to read it due to auto-play video. I turned on the TV and watched for 5 minutes. It was cringe-worthy. The Republicans were no better, but this is all so ridiculous and undignified. They should all go back to kindergarten.
(149 comments) Permalink :: Comments
The Senate today failed to pass amendments to appropriation bills funding background checks on guns and sharing state mental health records with the feds.
Senators voted 53-47 on a proposal from Sen. Chuck Grassley (R-Iowa) that would reauthorize funding for the National Criminal Instant Background Check System (NICS) and incentivize states to share mental health records with the federal system.
Then there was Sen. Diane Feinstein's amendment, also properly voted down:
Feinstein's amendment would allow the attorney general to block the sale of a gun or explosive if there's a "reasonable suspicion" an individual has or will be involved in a terrorist attack. It would allow the attorney general to block the sale of a gun to anyone under a terror investigation in the past five years.
There were four measures all together. The Senate failed to pass all of them. These kinds of laws will do nothing to reduce gun violence or stop terrorists. They will infringe on the privacy and liberty rights of the rest of us. Guns do not cause the rage. They are the means by which people express them. These laws are band-aids that fail to treat the infection.
(71 comments) Permalink :: Comments
A House Committee has passed a bill requiring women to register for the draft upon turning 18.
Women would be required to register for the military draft under a House committee bill that comes just months after the Defense Department lifted all gender-based restrictions on front-line combat units. A divided Armed Services Committee backed the provision in a sweeping defense policy bill that the full House will consider next month...
Total defense spending package in the overall bill: $602 billion.
War is not the answer. Either is the draft (which we haven't had since 1973.)
(11 comments) Permalink :: Comments
Senate Democrats blocked the Stop Sanctuary Policies and Protect Americans Act yesterday by a vote of 54 to 45. Republicans needed 60 votes to keep the bill, introduced by Vitter of Louisiana, moving forward.
The bill would have stopped some law enforcement funding and community development grants to states and cities that don't hold immigrants for federal immigration officials.

The bill would have also mandated a five- to 10-year minimum prison sentence for a person convicted of a felony or drug-related misdemeanors who reenters the United States illegally.
[More...]
(14 comments, 224 words in story) There's More :: Permalink :: Comments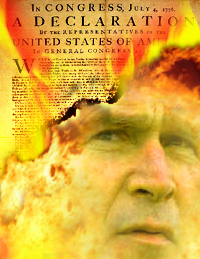 Rand Paul has ended his 10 hour "filibuster" over the renewal of the Patriot Act.
Among his main points:
"We're using the Patriot Act to put [drug offenders] in prison."
"The presumption of innocence is an incredibly important doctrine that we shouldn't so casually dismiss."
Warrants need to be "individualized," because collective law enforcement is the root of much evil.
Internet/telephone/data companies should put up "unified resistance" to federal compulsion to turn over user data.
Forfeiture: "The government is "using records to gain entrance to people, and then tak[ing] their stuff without conviction."
(42 comments) Permalink :: Comments