The 9th Circuit has reversed a conviction in a drug case because of the prosecutor's "inflammatory comments" during closing argument in a drug trial. Even though the defendant didn't object at trial, the court found plain error. The opinion is here.
The defendant, a U.S. citizen living in Mexico, brought drugs across the border. His defense was duress. He said the traffickers threatened his family. He said he didn't want to transport the drugs because he had a 2005 drug conviction. When he was caught, he asked the border patrol to check on his family, but they say he did not explain it was because they had been threatened.
In closing, the prosecutor delivered these objectionable "send a memo" comments: [More...]
(3 comments, 574 words in story) There's More :: Permalink :: Comments
Tomorrow the Supreme Court will hold oral arguments in two cases in which the defendants' lawyers were ineffective at the plea bargaining stage, resulting in the clients turning down plea bargains and getting much more severe sentences after losing at trial.
There is no constitutional right to a plea bargain, but there is a constitutional right to effective assistance of counsel.
Considering that 97% of all federal convictions result from plea bargains rather than trial, the significance of the Supreme Court ruling will be big. [More...]
(9 comments, 237 words in story) There's More :: Permalink :: Comments
Update: 6:43 pm MT: It's over. Amanda had a range of emotions from happy to teary. Here's Amanda walking from the plane into the terminal with lawyer Ted Simon; Here's Ted speaking at the press conference; Here's Amanda speaking.
Update: 6:10 pm MT: The plane has landed. It's now arrived at the gate. Here's a picture of the media waiting. [More...]
(39 comments, 240 words in story) There's More :: Permalink :: Comments
U.S. Senior District Court Judge John Kane has granted summary judgment to a blogger-defendant in a copyright infingement lawsuit filed by Righthaven. The opinion is here.
Kane also ordered Righthaven to pay the blogger's legal fees and costs, which undoubtedly will be tens of thousands of dollars.
Righthaven filed 57 lawsuits in Colorado and 275 nationally. When it said these dismissal rulings might cause it to file bankruptcy, one enterprising blogger-defendant in Nevada filed a motion asking it be allowed to "seize Righthaven's "bank accounts, real and personal property, and intangible intellectual property rights" so the company can't just "slither away." Another blogger is planning to go after Stephens Media. [More...]
(8 comments, 278 words in story) There's More :: Permalink :: Comments
Obama's health care bill took a hit today.
A federal appeals court in Atlanta on Friday struck down a key provision of the Obama administration's health care reform law, ruling that Congress exceeded its authority in mandating that most Americans buy health insurance by 2014 or face a penalty.

A divided, three-judge panel of the 11th Circuit Court of Appeals ruled that the individual mandate was "breathtaking in its expansive scope" and therefore unconstitutional. The "individual mandate," they wrote, "exceeds Congress's enumerated commerce power."
The opinion is here.
(42 comments) Permalink :: Comments
Decision
here
(PDF). The key grafs:
The Debtors have demonstrated that DOMA violates their equal protection rights afforded under the Fifth Amendment of the United States Constitution, either under heightened scrutiny or under rational basis review. Debtors also have demonstrated that there is no valid governmental basis for DOMA. In the end, the court finds that DOMA violates the equal protection rights of the Debtors as recognized under the due process clause of the Fifth Amendment.

No one expressed the Debtors' view as pertinent to this simple bankruptcy case more eloquently and profoundly than Justice William O. Douglas in the concluding paragraph of his opinion for the majority in Griswold v. Connecticut, 381 U.S. 479, 486 (1965):

We deal with a right of privacy older than the Bill of Rights—older than our political parties, older than our school system. Marriage is a coming together for better or for worse, hopefully enduring, and intimate to the degree of being sacred. It is an association that promotes a way of life, not causes; a harmony in living, not in political faiths; a bilateral loyalty, not commercial or social projects. Yet it is an association for as noble a purpose as any involved in our prior decisions. Id.

[More . . .]
(10 comments, 541 words in story) There's More :: Permalink :: Comments
Now that possession of marijuana for personal use is no longer a crime in Massachusetts, the Supreme Court has ruled police cannot order occupants of a vehicle to exit the car just because they smelled marijuana. From today's ruling:
"Without at least some other additional fact to bolster a reasonable suspicion of criminal activity, the odor of burnt marijuana alone cannot reasonably provide suspicion of criminal activity to justify an exit order...."Ferreting out decriminalized conduct with the same fervor associated with the pursuit of serious criminal conduct is neither desired by the public nor in accord with the plain language of the statute,
The ACLU, which participated in the case, says:
"Today's ruling is a strong statement that police cannot treat decriminalized conduct as if it were a serious crime. Heavy-handed police enforcement in the face of minor drug infractions not only wastes public resources but disproportionately affects communities of color."
What happened, according to the opinion (link is only temporary, the case is Commonwwealth vs. Benjamin CRUZ. SJC-10738. April 19, 2011):
(8 comments, 807 words in story) There's More :: Permalink :: Comments
The Aspen Daily News reports that Aspen resident Devin Schutter won his challenge to the police search of his iPhone in the Colorado Supreme Court.
The Colorado Supreme Court on Monday upheld by a 6-1 vote the suppression of evidence against a man accused of selling cocaine, saying Aspen police exceeded "permissible limits" in trying to identify who owned a cell phone.

...In their ruling, the state justices said the "district court found that Schutter had not abandoned the iPhone, and even assuming it could be characterized as lost or mislaid property, the police invaded Schutter's reasonable expectation of privacy in the contents of his phone without a search warrant or an appropriate exception to the Fourth Amendment warrant requirement."
Devin had left the phone in the restroom of a gas station, along with the key to the bathroom. The door locked when he exited. He asked the clerk to retrieve it, but the clerk said he was busy. About an hour later, a cop came into the store and the clerk turned the phone over to him. The officer then answered the phone when it rang, and somene asked for Dev, whom they figured was Devin Shutter. Devin was already in their cross-hairs for allegedly selling cocaine.
When Devin went to the police station seeking the return of his phone, the police refused to give it to him. Then they searched through the text messages and calls, and based on that data, got a search warrant for Devin's mother's residence, where they discovered drugs. (Devin had been staying at his mother's home.) [More...]
(54 comments, 833 words in story) There's More :: Permalink :: Comments
Here's just another example of the difference it makes who gets appointed to the Supreme Court. In 2009, the 5th Circuit Court of Appeals upheld a $14 million judgment for former death row inmate John Thompson against the New Orleans District Attorney's office for prosecutorial misconduct. The opinion was written by Judge Edward Prado.
Back in 2005, TalkLeft strongly endorsed Judge Prado for the Supreme Court. Instead, we got Justice Alito and then Chief Justice Roberts.
Today, the Supreme Court, in a 5-4 opinion with the conservative justices carrying the day, reversed the award. Justice Ginsburg's dissent is longer than the majority opinion. The opinions are here. Had Judge Prado or another judge with non-conservative views on criminal justice been appointed instead, the opinion would likely have gone the other way.
Judge Prado was appointed to the federal bench by President Reagan in 1984. Prior to that he had been both a prosecutor and a public defender and a state court judge. In 2003, then President Bush nominated him to the 5th Circuit Court of Appeals, where he was confirmed by a vote of 97 to 0.
In today's decision, Justice Ginsberg was joined in her dissent by Justices Breyer, Sotomayor and Kagan. Justice Ginsburg wrote: [More...]
(12 comments, 570 words in story) There's More :: Permalink :: Comments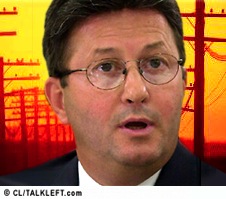 Former Qwest CEO Joe Nacchio, still serving a 70 month sentence on his insider trading conviction, has sued his chief defense counsel, ex-U.S. District Court Judge Herb Stern and his firm, Stern & Kilcullen LLC (including partner Kilcullen) for negligence in representing him and for overbilling.
The firm billed Nacchio more than $25 million to defend criminal and civil matters, charging tens of thousands of dollars for staff breakfasts, attorney underwear and in-room movies during the trial in federal court in Denver, according to the complaint in state Superior Court in Newark, New Jersey.
On the negligence, Nacchio alleges: [More...]
(7 comments, 795 words in story) There's More :: Permalink :: Comments
The Supreme Court, in an opinion by Justice Ginsburg, has ruled that Hank Skinner, a Texas inmate, can sue under the federal civil rights act , for refusal to grant his request for DNA testing. The case is Skinner v. Switzer, and the opinion is here. The dissenting justices were Thomas, Scalia and Kennedy.
Texas enacted a law in 2001 allowing post-conviction DNA testing in certain circumstances. Skinner's request was refused by prosecutors who said he should have asked earlier.
Skinner sued under the Civil Rights Act (Section 1983) alleging Texas's statute violated his due process rights. The TX appeals court said his only remedy was a habeas petition. Today, the Supreme Court disagreed, stressing their ruling was narrow and would not open any floodgates (or as Justice Ginsburg put it, even cause any rainfall.) [More...]
(17 comments, 672 words in story) There's More :: Permalink :: Comments